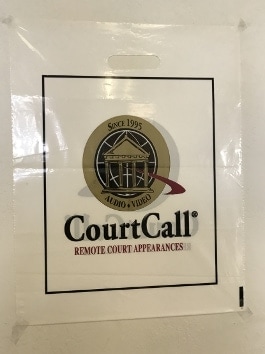 Customized products have become the core of any company's promotional campaign, and CourtCall bag is one of the most premium quality, personalized plastic bags which can strengthen the brand's presence in the market. Manufactured using the optimum quality plastic materials in adherence to the required industrial standards, this bag seamlessly represents the brand of CourtCall and promotes it in the market. With exclusive features like high quality, ultra-durable, and light weight, the offered reusable bag is capable of giving your brand a quick spotlight in the market. With a transparent, white-colored look, this bag can vibrantly showcase your company profiles to the market. With a top-based handle, this bag is easy to carry and move. Designed for multi-purpose applications, this bag can be your ideal partner for both storing and transporting. Except being a mere carrier bag, the advantages and usability of this bag can benefit your brand to a great extent.
Salient Features:
Easy to handle & use.
Lightweight.
Ultra-fine finishing.
Cost-Effective.
Recyclable.
Lastly, for outside industry promotion, use of this bag can be an ideal option for you! Perfect for carrying and storing courtroom-related products, this bag, designed and developed by Universal Plastic also can be used for various other purposes.