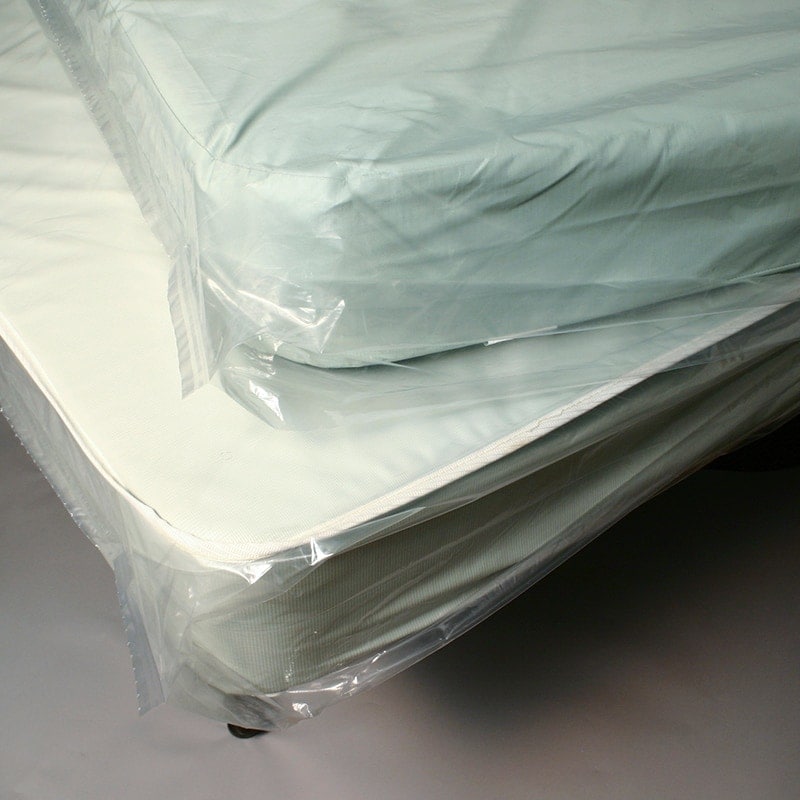 Mattress Bags
When moving and storing your mattress, it's critical to protect it from impact and exposure to moisture, dirt, dust, and other contaminants. Since a mattress is a significant investment, protective measures are key to cost-efficiency and ensuring the longevity of your investment. Fortunately, a wide variety of mattress storage bags are available to preserve your mattress as long as possible and keep it in peak condition.
At
Universal Plastic
, we offer an assortment of high-quality mattress covers to extend the life of your mattress. Our mattress bags are available in
twin, full, queen, and king sizes
, or we can
customize
the cover bag to the specific shape, size, and design of your mattress to suit your needs. Our mattress covers are engineered using clear, heavy-duty 2.0-mil polyethylene plastic, which provides the optimal combination of protection and comfort. Because the cover is clear, it's also easy to check the condition of your mattress anytime.
| SKU | SIZE | Case qty | Weight | Buy 1 | Buy 6 | Buy 11 | Select Qty |
| --- | --- | --- | --- | --- | --- | --- | --- |
Determine the Right Size for Your Mattress Type

A fitted bag will encase your mattress without gaps, folds, or bulges and will seal completely. The material should also protect against sweat, spills, dust, fur, and other contaminants.
As a trusted wholesale provider, Universal Plastic offers individual and discount standard and custom printed bags with the following features: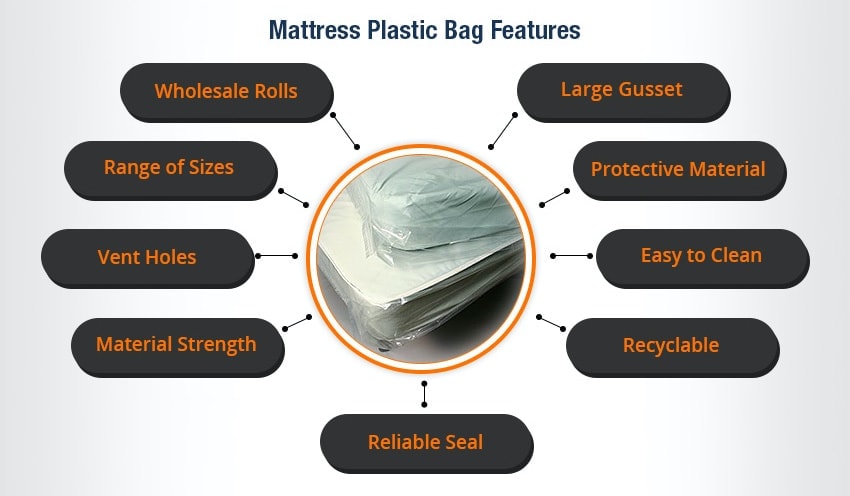 Large Gusset: UP's mattress bags are made with a generous gusset, for easy installation on any mattress size.
Protective Material: Our polyethylene mattress bags protect mattresses from moisture, dust, allergens, and other contaminants that may be harmful to your health.
Easy to Clean: The mattress bags are easy to clean with a mild soap or detergent and damp cloth or sponge.
Recyclable: All our bags are made of 100% recyclable polyethylene and are eco-friendly.
Reliable Seal: Our mattress bags are manufactured with a hypoallergenic seal.
Material Strength: Our custom-made polyethylene mattress bags are exceptionally strong and durable to withstand moves, storage, and daily wear.
Vent Holes: Our gusseted poly mattress bags include strategically placed vent holes to allow excess air to escape, which makes it easier to place the mattress inside the bag.
Range of Sizes: We offer an extensive selection of sizes and designs for all mattresses, including standard and pillow-top styles.
Wholesale Rolls: For wholesale orders, our mattress bags are perforated and transported on easy-to-use rolls for efficient dispensing.
Commercial Applications

Our plastic mattress bags are ideal for residential and commercial applications alike. Here are just a few examples of how our mattress covers are used:
Mattress and Bedding Manufacturers
Hotels and Hospitality
Hospitals and Medical Facilities
Warehouses and Storage Facilities
Custom Mattress Bag Solutions

Whether you need twin mattress covers or wholesale rolls of printed mattress bags, Universal Plastic has the reliable products you need. Keep your mattress free of mold-causing moisture, dust, and allergens for years by partnering with Universal Plastic. Our broad range of stock mattress covers are available in sizes from twin to king pillow-top. Our highly experienced and knowledgeable staff will help you find the perfect mattress cover to meet all your needs.
---
Contact Us for Your Plastic Mattress Bags Needs – On Time at Amazing Prices!

At Universal Plastic, we're dedicated to providing the highest-quality plastic mattress bags for sale at competitive prices. To learn how our poly mattress covers can protect the mattresses in your home or business, contact us today.