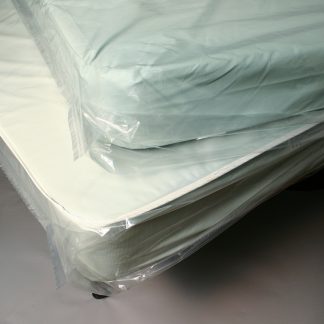 Mattress Bags
Many times you might have encountered a situation to move your expensive mattress to faraway places or store it for later use. During this transit or while storing, your foam mattresses may get damaged due to exposure to heavy impact, moisture content, dust and other contamination. Being an expensive addition to your house, you certainly can't afford to take a risk of such damage caused to your mattresses. However, by using a simple yet innovative product, you can keep your mattress in good condition when stored or moved. Make the best use of the right sized mattress bags that immensely help to extend the life of your mattress. Available in a variety of mattress sizes, including twin, full, queen and king sizes, these plastic mattress covers can be customized to meet your specialized requirements.
Would you like to source these mattress bags at wholesale rates? Then, you won't find a better place than Universal Plastic. For applications where strength is paramount, our range of custom mattress bags bring you the optimum solution beyond your expectations. Being one of the most important accessories to have for your mattress, they also provide you a comfortable sleep environment free of dust mites and bed bugs and mice. Made of a heavy-grade 2.0 mil polyethylene plastic, custom poly mattress bags we offer at Universal Plastic offer brilliant clarity, which in turn allows you to constantly check the mattress condition!
Reasons to Choose Our Poly Mattress Bags
Purchasing a mattress bag is a significant investment as it not only protects your mattress from damage but also safeguards the bed from sweat, dead skin cells, body fluids and unpleasant stains and dirt. We, being a trusted mattress bags wholesale providers, offer several selection of standard or custom printed bags that best suit the size and style of your mattress. The benefits of choosing the product is as follows:
Mattress bags are made with a generous gusset so they can be slipped on to accommodate the size of your bed.
The use of our mattress bags helps maintain cleanliness, thus protects you from harmful allergens.
The bags can be cleaned quickly using a mild soap and a damp cloth or sponge. Hence, the bags can be used for a long period of time.
A good quality mattress cover can be sealed tight at the end, thus offering optimum protection to the mattress material.
They are perforated on convenient rolls for easy dispensing and tear off.
The material used in the making of our custom poly mattress bags possess excellent impact strength and tensile strength.
These gusseted poly mattress bags contain vent holes to remove excess air.
Available for standard and pillow top mattresses, they are easy to install and remove.
Applications of Custom Mattress Bags
Our range of wholesale plastic mattress bags are manufactured from 100% recyclable and strong low-density polyethylene material. Available with printed or unprinted options, they find immense applications in:
Mattress and bedding companies
Hostels
Hospitals
Hotels
Residence
Warehouses
Order in Bulk and Get the Custom Mattress Bags On Time at Amazing Prices!
If your requirements call for keeping mattresses clean and in good condition, by avoiding possible allergic reactions, stains/other damages, then investing on the right type of mattress bag is the wise decision. Let us know your application requirements and type of mattress you have. With efficacious customer assistance, we help you procure the right size to guarantee ultimate protection to your mattress.