High-Quality Custom Plastic Trade Show Bags With Your Logo for Your Next Promotional Event
Trade shows are a prime opportunity for companies to promote their products and services. While companies use many methods to attract the attention of attendees, distributing custom bags branded with the company logo is an excellent way of standing out from the crowd. These bags are convenient carrying containers for companies that hand out product samples, written materials, and branded novelties, all of which can convey information about their capabilities, values, mission, message, and/or aesthetic. They also serve many other purposes with regard to marketing and advertising strategies.
At Universal Plastic, we've manufactured plastic bags and other packaging supplies for over 20 years. This experience allows us to create high-quality custom-printed bags suitable for a wide range of applications, including trade shows and other professional events. Our extensive range of customization capabilities allows customers to personalize their bags to suit their needs.
---
Our Custom Printed Trade Show Bag Capabilities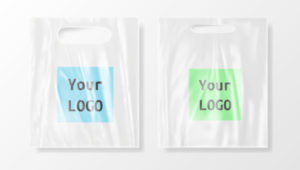 Our custom plastic bags are available in a variety of styles, sizes, and colors, all of which can be printed with the company logo or other custom designs. Some of the customization options we offer include:
By placing bulk orders, customers save money. Since our bags are small, lightweight, and durable, they can be stored until they're needed for distribution without risk of damage or degradation.
Benefits of Offering Trade Show Bags
There are several advantages to distributing custom-branded bags at tradeshows, such as:
Standing out from other vendors. Tradeshows are generally teeming with hundreds—if not thousands—of attendees with dozens of vendors vying for their attention. Customized trade show bags help attract the attention of passersby, increasing the chance of them coming to learn more about the company's products and services.
Increasing your visibility. Companies generally only have a couple of employees attending the tradeshow, which decreases their capacity to connect with attendees. By distributing branded bags, they can increase the number of places where attendees are exposed to their brand.
Generating goodwill among attendees. Free merchandise and novelties, such as branded bags, make it easier for company employees to start a conversation with attendees. Once the conversation is started, there is a higher chance of them wanting to learn about the company's products and services and/or exchange contact details for follow-up information.
Building your brand. Branded bags allow companies to continue promoting their products and services even after the tradeshow is finished. Compared to disposable bags, these bags are designed to last for years, during which time customers can be reminded of the company and/or raise awareness of the company among other members of their communities.
---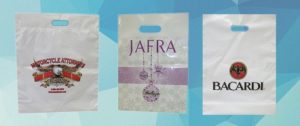 Order Quality Plastic Trade Show Bags for Your Event!
Custom trade show bags are a critical element of marketing and advertising strategies for companies attending trade shows and other professional events. If you're looking for high-quality trade show bags customized to meet your brand message and aesthetic, the experts at Universal Plastic are here to help. Our team can help you choose the style, size, color, and design that best suits the message you want to convey.
To learn more about our custom plastic trade show bag capabilities or discuss your design requirements with one of your representatives, contact us today.
---