Make Your Business Stand Out with Custom Printed Plastic Bags
Custom printed plastic bags are a powerful marketing tool, yet they're simple, lightweight, and inexpensive. Companies in any industry can benefit from using them at trade shows, in-store, and beyond. Your customers need a way to carry their purchases or promotional items, and a bag with your logo on it allows your brand to travel far beyond your event or store, potentially for months or even years to come.
Personalized plastic bags can be printed in a wide variety of styles, colors, and sizes. Being one of the leading providers of plastic bags, Universal Plastic provides custom printed bags that find great use in retail stores, as well as at various promotional events. We offer a range of options, so you can easily customize them with your brand logo or any design of your choice. Order today!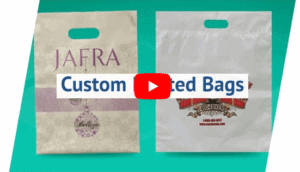 Custom Plastic Bags with Logo or Any Design
A plastic bag with a logo on it is a walking advertisement; you get exposure wherever the carrier goes. Furthermore, plastic bags are small and lightweight, making them easy to store until you need them, allowing you to place bulk orders and save money. You can hold them in storage for as long as you need and they'll never spoil or go out of style.
They're versatile, flexible, and more sustainable than you might think. Because you can fit a lot of bags into one shipment, transportation is efficient. The bags can be reused multiple times, and then recycled.
When designing your personalized plastic bags, you have options. You can choose the size, shape, and material that's right for you with drawstring, hard or soft plastic, or die-cut handles. At Universal Plastic, we stock plastic bags and pouches that are made of high-quality material, which help register a strong brand impression in the minds of users.
What to Consider When Designing Your Bag
If you have decided to use custom plastic bags with a logo for your branding purpose, the next important step is choosing the right bag from our selection. Whether you require custom printed pouches or large custom printed bags, we've got you covered. Our selection features a bag that will work for your next promotional event or regular marketing endeavors.
When designing your bag, there are a few factors to keep in mind:
Durability: A strong, durable bag will be used again and again. Every time that person carries it, more people see your logo and message, and the bag's owner will be reminded of your brand, as well.
Style: Anti-static, resealable, drawstring—there are numerous styles and types of plastic from which you can choose. We can help you find the one that best suits your needs.
Design: What do you want to include on the bag? What color should it be? You can include your logo, phone number, address, a message or reminder, or anything else.
Budget: Custom plastic bags are an inexpensive marketing strategy, but the size, design, and style of bag you choose will impact your overall price. You'll want to place your order with a company that has a commitment to high-quality materials, low prices, and an array of options. You'll also save by buying in bulk, which is easy since personalized plastic bags don't take up as much space as other promotional items, and they don't require as much care in handling.
Some of Our Happy Clients:
Applications of Custom Printed Plastic Bags
Custom printed bags are ideal for a variety of uses. At Universal Plastic, we customize the plastic bags for the following purposes:
Promotional Giveaways: Promotional plastic bags with a logo are popular giveaways during tradeshows, promotional events, and regular product deliveries. Since they are inexpensive and lightweight, they allow users to secure and carry around their tradeshow goodies.
Direct Marketing: At Universal Plastic, we stock a broad range of small-sized plastic bags that are suited for direct marketing. Many times, small-sized bags are ideal for storing promotional goodies. For instance, custom printed pouches are ideal for storing discount cards, business cards, and other small items. Also, Universal's Lab-Loc ® reclosable seal top specimen bags are used for sealing specimens.
Retail Marketing: Custom plastic bags with a logo make an ideal giveaway at retail outlets. Our selection features plastic bags with tough handles that are ideal for packaging different types of products, and also make good shopping bags. Also, there are anti-static bags that are a good choice for packaging electronics items. These plastic bags are known for their durability, price, and quality.
Why Choose Universal Plastic?
With more than 20 years of experience, Universal Plastic knows custom plastic bags. We use high-quality raw materials that meet FDA and other standards and regulations. We also produce trash can liners, mattress bags, garment bags, food and fish bags, and much more.
Our clients come from a variety of industries-medical and pharmaceutical, casinos, amusement parks, fashion, electronics, automotive, and others—and have been with us for years. This is due to our top-notch customer service and our commitment to producing great products on state-of-the-art equipment.
Our depth of experience in the industry has us in-the-know about how to pass cost savings along to you; wholesale prices and discounts on bulk orders help our customers stay within their budgets.
Order Quality Custom Printed Bags at Affordable Prices
It doesn't matter whether you are a startup or an established business, custom printed plastic bags are perfect for all sorts of promotions. Once you select the plastic bag, we'll customize it with logos or graphics of your choice. We assure the best prices on bulk orders. What are you waiting for? Get in touch with us and order these bags today!
More Happy Clients: