Wholesale Medical Bags
Plastic Medical bags are special type of bags used in the healthcare industry to package and organize medical supplies during routine care and emergencies. At Universal Plastic, we understand the packaging and organizing requirements of our medical industry clients. We are also aware of the strict FDA regulations regarding the quality of medical plastic bags. This is why we take utmost care in designing products that meet this stringent requirement.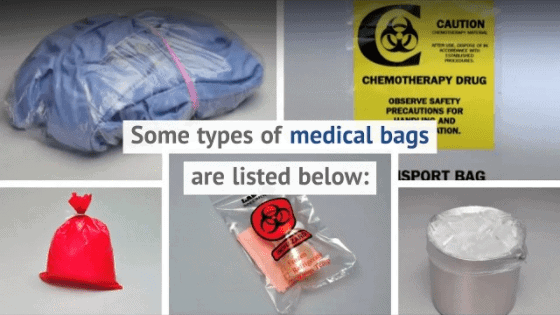 At Universal Plastic, we understand the critical nature of medical supplies, and our bags are built to ensure maximum protection. From spacious water-soluble bags to ziplock reclosable bags, our collection caters to various medical applications. They are carefully designed to cater to the needs of various medical professionals, including nurses, doctors, paramedics, first responders, or any other medical personnel.
Explore our selection of wholesale medical bags today, and you will see a blend of functionality, reliability, and innovation. Your medical essentials need the best packaging; we are here to deliver just that!
Benefits of Choosing Custom Printed Medical Bags Offered by Universal Plastic
When it comes to packaging, storing, and transporting medical supplies, it is crucial to ensure the utmost safety and protection. At Universal Plastic, we understand this requirement and have always delivered high-quality bags that cater to the needs of the healthcare industry. Our clients are set to benefit in the following ways by ordering from us.
Quality Construction: Our medical bags are made from carefully chosen plastic and can withstand the rigors of daily use. They help protect valuable medical supplies from moisture, damage, or contamination. You can use our medical bags to maintain product integrity even in challenging environments.
Reduced Risk of Contamination: Our selection features reclosable bags and tamper-evident bags, which are generally used for storing drugs of perishable nature or specimens that demand high safety. As these bags are sealed when not in use, the contents do not come in contact with contaminants.
Compliance and Safety: All our medical bags are designed to comply with relevant regulations and meet industry standards. When medical supplies are stored in compliance with industry regulations, there are fewer contamination risks. For instance, the specimen taken for testing must be stored neatly in a specimen bag with ziplock sealing. An item for sterilization must be kept in a sterilization bag. It is a type of disposable bag used in sterilizers to allow the penetration of sterilant in the item stored inside. In both cases, there are fewer risks of contamination.
Improved Organization: We understand that healthcare facilities or hospitals, clinics, and pharmacies must deal with various supplies, ranging from syringes to bandages to medical equipment. Our bags are carefully designed to organize and access their supplies whenever needed. For instance, our Lab-Loc® Reclosable Seal Top Specimen Bags feature three-wall construction that helps keep specimen and paperwork separate. The paperwork can be stored in an outer pouch. Water soluble bags from Universal Plastic are used to store contaminated laundry. They help minimize the contact between the contaminated laundry and staff. These bags can contain damp laundry for hours.
Customization Options: We can customize the bag with your logo or important information on the do's and don'ts of storage, handling, and medicine administration. We can customize the medical bags in terms of size, layout, specialized features, and so on, to make your job more efficient and organized.
Easy Portability: Most medical supplies are stored in plastic bags during storage and transportation. We also understand how medical professionals are always on the move, whether in hospital, ambulance, or field settings. Thus, all our medical bags are designed keeping portability in mind. They are lightweight and made of high-quality material, which helps keep the packaged supplies safe during the transit. For instance, many small clinics and hospitals partner with third-party laboratories for testing. In this case, they send their specimen neatly sealed in specimen transfer bags or specimen transport bags. These bags are made from high-density polyethylene, still lightweight and help keep the specimen safe during transit.
Versatile Applications: Our medical bags meet the requirements of various medical specialties, from emergency care to general medicine to specialized fields such as pediatrics, cardiology, and trauma care. No matter what your medical storage needs are, we can provide you with a medical bag that meets your unique needs.
Cost-Effective Solutions: Buying high-quality medical bags are beneficial in many ways. They would help protect your valuable medical supplies and offer a cost-effective choice in the long run. The durability of our bags ensures that they will serve you well for years to come.
Applications of Customized Medical Bags
Medical bags are used as healthcare packaging in medical facilities to organize and carry medical supplies and equipment effectively. We regularly deliver medical bags to the following applications.
Hospitals and Clinics: Medical bags are commonly used in hospitals and clinics by medical staff to transport supplies from pharmacies or storage rooms to patient rooms. Our bags facilitate easy storage and transportation of medicine.
Emergency Medical Services (EMS): Paramedics and ambulance staff use medical bags to carry essential supplies such as life-saving medicine, dressings, bandages, airway management tools, defibrillators, and other life-saving equipment.
Home Healthcare and Elderly Care Services: Many healthcare providers visit with special medical needs at homes or elderly care facilities. They use various types of medical bags to carry their medications, diagnostic equipment, and wound care supplies, which are needed for patient treatment.
Specialist Medical Practitioners: We cater to a wide range of healthcare specialists who may use our bags to store their specific equipment or medications. For instance, we can supply customized bags allowing pediatricians to store their kid-friendly medical supplies or tools.
Disaster Relief and Field Hospitals: Over the years, we have helped disaster relief teams to carry medical supplies and equipment required to treat people affected during natural disasters, military operations, or emergencies. Our tamper-evident bags can be used to store supplies and equipment needed to provide medical aid in challenging conditions.
Disaster Preparedness and First Aid Kits: We can provide customized medical supplies bags for disaster preparedness programs and first aid kids for schools, workplaces, and homes. These bags can be used to store necessary medications, dispose of used dressings or manage medical tools.
Buy Quality Custom Printed Plastic Medical Bags at Wholesale Prices
When you decide to buy from us, you can expect top-notch products that meet the stringent quality requirements of the medical industry. Our medical bags provide secure containment of medical supplies in various settings. We offer competitive prices, making it an ideal choice for bulk orders, and allow you to save on costs without compromising on quality. Contact us today to order your wholesale custom printed plastic medical bags!