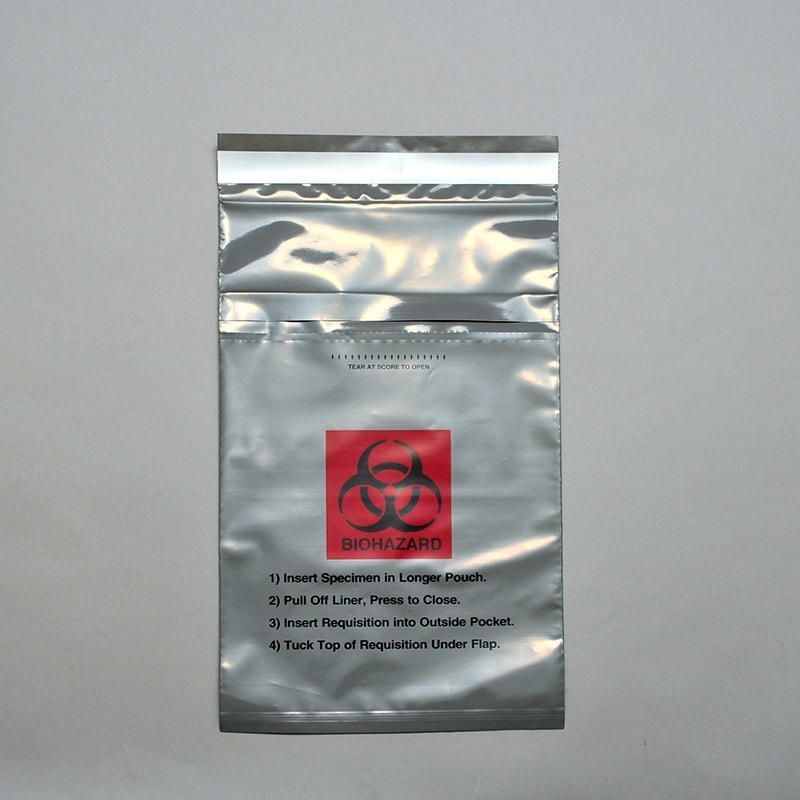 Ask for Special Bulk Pricing
Adhesive Closure Bags
Imagine a world where specimen transfer is safe, secure, and efficient, where healthcare professionals can focus on providing care to their patients without having to worry about the integrity of their specimens. That is the world of Universal Plastic's Lab-Loc® Adhesive Closure Bags. Our Adhesive-Closure Biohazard Bags are designed specifically for the needs of healthcare professionals.
Benefits: These bags offer a range of benefits:
Tamper-Evident: Ensures the integrity of the contents.
Three-Wall Construction: Keeps paperwork and specimens separate.
Variety: Available in different sizes, colors, and prints to designate different specimen types.

Are you ready to experience the benefits of our Lab-Loc® Tamper-evident Bags for yourself? Contact us today to explore the full range of options and discover how these bags can streamline your specimen transfer process. Purchase Universal Plastic's Lab-Loc® Adhesive Closure plastic Bags today and experience the difference!
Subcategories
Key Features:
Tamper-Evident Closure: Our bags feature a tamper-evident adhesive closure, ensuring your specimens remain secure and unaltered during transport.
Three-Wall Construction: The three-wall construction ensures that paperwork and specimens are kept separate, maintaining the integrity of the contents.
Versatility: With Lab-Loc® Adhesive Closure Bags available in various sizes, colors, and printed messages, you can easily designate and organize different specimen types, making your workflow more efficient.
Shop Wholesale Plastic Bags – Universal Plastic:
At Universal Plastic, we take pride in being a trusted manufacturer of Wholesale Plastic Bags and Wholesale Poly Bags. With decades of experience in the industry, we have consistently delivered high-quality packaging solutions that meet the diverse needs of our clients.
Contact Universal Plastic today to explore our comprehensive range of products and experience the quality and professionalism that set us apart in the industry.