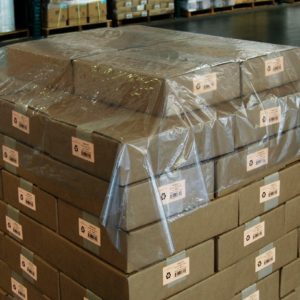 Pallet Covers
Quick Delivery Assured on High-Quality Printed Pallet Covers. Pallet covers are vital for warehousing and shipping operations. They ensure items that are stored or shipped on pallets are protected from dust, moisture, and other environmental conditions. Due to their critical function, it is essential to use quality pallet covers sourced from reputable suppliers. Otherwise, you risk damage to your materials and products. At Universal Plastic, we are one of the leading manufacturers and distributors of pallet covers in the United States. Equipped with over 20 years of industry experience, we have what it takes to provide quality pallet cover bags and sheets that fully meet customer requirements. We offer options for various strengths, sizes, and colors and a range of customization capabilities to allow customers to tailor the products to suit their needs. We can custom size and thickness for a minimum of one pallet quantity.
| SKU | SIZE | Case qty | Weight | Buy 1 | Buy 6 | Buy 11 | Select Qty |
| --- | --- | --- | --- | --- | --- | --- | --- |
Our Plastic Pallet Cover Bags and Sheets
We offer several pallet cover products to accommodate different storage and shipping applications.
Pallet Cover Bags
Our pallet cover bags ensure bin and box contents remain in the container and protected from dirt, dust, and moisture. They are made from durable and clear materials, which ensures the bags are long-lasting and the materials stored inside are easily examinable. Various sizes and gauge thicknesses are available to meet different protection requirements. The most popular sizes are 1.5 mil, 2.0 mil, and 3.0 mil.
Our poly-tarp, poly-sheeting is commonly used to cover automobiles and other large items stored in isolated or open areas where there is risk of exposure to dust, moisture, and sunlight. They are available in clear and black variations. Clear sheets are available in the following sizes: 1.0 mil, 2.0 mil, 3.0 mil, 4.0 mil, and 6.0 mil. Black sheets are available in the following sizes: 4.0 mil and 6.0 mil. They are also specially formulated for increased UV resistance, prolonging their service life and enabling them to minimize the amount of sunlight damage experienced by the covered item.
Our poly top sheet pallet covers are designed to cover shrink-wrapped pallets. They help protect the pallets from dirt, dust, water, bacteria, and fungus, ensuring the integrity of the stored contents. They are available in a variety of common thicknesses, including 1.25 mil, and typical sizes ranging from 60 in. by 60 in. to 75 in. by 75. They fit into boxes and containers of various sizes and meet FDA standards and regulations for covering food items.
Our Custom Pallet Cover Printing Capabilities
Our custom printing capabilities enable customers to add logos and other information to the pallet covers to help market their products and brand. The covers can be printed in various styles, sizes, and colors.
Industrial Applications of Pallet Covers
As a leading pallet cover manufacturer and supplier, we end up processing a huge variety of printed pallet covers, which are used for covering the following:
Appliances
Building and Automotive Supplies
Chemicals
Flooring Materials
Food Service Supplies
Furniture
Manufactured Foam
Medical Supplies
Pharmaceutical Products
Plastic Extrusions
Textiles
---
Order Wholesale Plastic Pallet Cover Bags Today
If you're looking for high-quality pallet covers, Universal Plastic has got you covered! We offer fast delivery on wholesale plastic pallet cover bags and sheets. Whether you need standard or custom-printed plastic bags in specific sizes, our experts can help you find the right solution for your needs. To learn more about our product and service offerings or discuss your requirements with one of our representatives, contact us today.