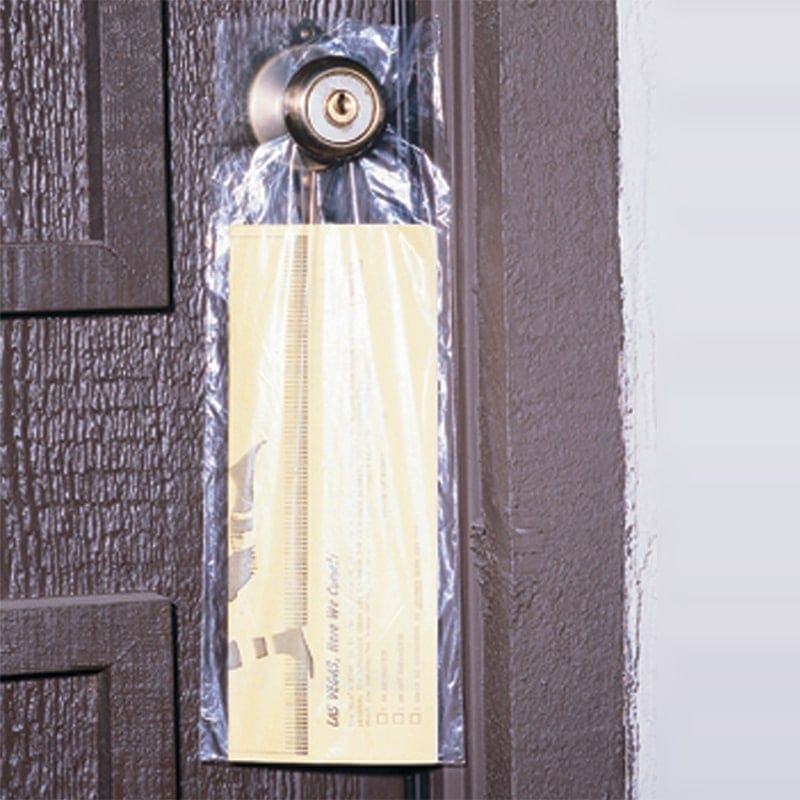 Ask for Special Bulk Pricing
Plastic Door Knob Bags
Universal Plastic's exclusive collection of Flip-Loc™ Plastic Door Knob Bags. Designed to ensure your newspapers and promotional materials arrive in pristine condition daily. Our high-quality bags guarantee customer satisfaction and loyalty. Our innovative Flip-Loc™ closure makes your deliveries quick, secure, and cost-effective. Eliminating the need for double bagging and saving on labor and materials. Rain or shine, our durable Door Knob Bags protect your content, ensuring your customers receive dry and clean newspapers.  
Flip-Loc™ Closure for Ultimate Protection: Our Flip-Loc™ Plastic Door Knob Bags feature a quick and secure seal, shielding your newspapers from moisture and debris without the hassle of double bagging. Rest assured, your newspapers will stay dry and presentable in any weather.
Available in Four Popular Sizes: Choose from our four popular sizes to suit your newspaper's dimensions and distribution needs. Our versatile bags accommodate various newspaper sizes while maintaining their protective properties.
Conveniently Packaged on Headers: Packaged on headers of 100 bags, our Door Knob Bags offer easy dispensing and loading, streamlining your workflow for smooth and efficient operations.
Ensure your newspapers and promotional materials reach your customers in impeccable condition. Experience the convenience of our secure closure and versatile sizes. Delivering a seamless experience to your readers and prospects. Trust Universal Plastic for top-quality packaging solutions that protect your content and impress your audience. Secure your order today and experience the convenience.