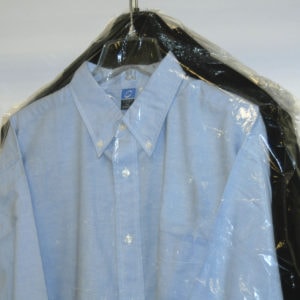 Ask for Special Bulk Pricing
Plastic Garment Bags
Garment bags also known as dry cleaner bags are plastic bags used to keep your ironed clothes safe and wrinkle-free. These bags can be hung on a hanger in your wardrobe. They are commonly used for safeguarding expensive clothes such as suits, party wear, and so on. These clear plastic garment bags are routinely used in laundries. Universal Plastic is an experienced clear plastic poly bags manufacturer who provides custom poly garment bags for various applications. We offer these bags in various lengths and sizes.
Subcategories
Features of Garment Bags at Universal Plastic
Universal Plastic offers a variety of plastic garment bags on a roll for different applications. Here are some types of clear garment bags on the roll which can be customized on a need basis:
Flat garment bags are available in two gauge thicknesses and for various sizes of garments.
They are packed on a perforated toll for easy dispensing.
We offer the 0.35 mil, 0.6 mil, 0.75 mil dry cleaner bags in various sizes, weighing only 17 pounds.
They range in sizes from 20″ X 30″ to 20″X 72″ to fit various clothing bundles and sizes.
They come with a slope on shoulders and have holes to tuck in the hanger.
They are flexible and help keep your clothes wrinkle free.
We offer custom printed plastic garment bags for your clothing brand so that you can print your logo and contents on it. These bags can be printed with personalized content in case you want to gift a suit or a special garment to someone. Laundry owners can get their brand and other details printed on our clear plastic poly bags. They help you market your brand easily. At Universal Plastic, we stock all sizes and types of these plastic garment bags on the roll.
Applications of Custom Plastic Garment Bags
Here are some application areas of plastic garment bags:
Uniform cleaners
Laundries
Dry cleaners
Storing bridal wear, suits, and clothes for special occasions
Transportation of clothes
Printed garment bags for display in stores and exhibitions
Safe storage of anything from woolens to drapes and pants
Order Your Clear Plastic Poly Garment Bags from Universal Plastic Now
We are also well-known for customization and can assist you in printing your clear plastic poly garment bags manufacturers as we are experts at customizing a clear poly bag to suit your requirements. All you need to do is select the size and length of bag that suits your requirements, and we can help you with the logo and graphics. We have amazing wholesale plastic garment bag offers. We offer attractive prices on bulk orders. So, place your order really fast.