Plastic bags are essential in all areas of the foodservice industry, from grocery stores to take-out restaurants. These containers come in a range of options designed explicitly for storage, transportation, and packaging. 
Universal Plastic provides high-quality poly food bags in diverse sizes, styles, and thicknesses for food processing and packaging markets. We combine durability, convenience, and affordability to offer you with a packaging solution that works for your business needs.
Our Food Bag Options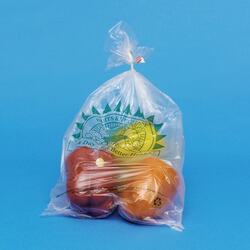 Our food plastic bags are widely used in bakeries, delis, convenience stores, donut stores, and supermarkets for storing perishable and delicate food items. They come in various thicknesses and lengths to meet your specific needs and budgets.
Meeting FDA & USDA Food Bag Specifications 
We understand you need sustainable and chemical-free plastic products that enforce greater purity standards. Manufacturing food-grade plastics that adhere to the FDA regulations is a high priority for us. FDA-approved plastic or poly food bags must meet stringent requirements. We are committed to safe food packing methods, which is why all our food bags are made of FDA compliant material to guarantee the safety of your food while on transit and storage. We use low-density or linear low-density polyethylene to create our food-grade plastic bags. These materials boast unmatched resistance to esters, bases, alcohols, diluted and concentrated acids.
Custom Food Bags With Logo or Any Design
There is no doubt a plastic with your logo on it is a powerful advertising tool that provides unlimited brand exposure at a fraction of your traditional marketing budget. We can customize our FDA-approved bags with your company information to increase your brand's visibility and boost your marketing efforts. This means you can use our custom printed plastic bags at trade shows, in-store, and beyond to advertise your product and service offering. Ideally, a bag with your logo on it enables your brand to travel beyond your store or event for months and years to come. Our personalized plastic bags can be printed in several styles, colors, and sizes depending on your branding needs and budget. Essentially, you can also choose from a range of handles, from hard, soft plastic to die-cut handles.
Why Choose Universal Plastic as Your Food Plastic Bag Manufacturer?
As the leading provider of food-grade plastic bags in the U.S., Universal Plastic is committed to high-quality standards and safety. The following are a few reasons to pick Universal Plastic as your number one food plastic bag manufacturer:
Extensive portfolio under one roof:

We offer a range of product lines to enrich your inventory and meet your packaging needs. Whether you need poly bags, zip lock bags, anti-static bags, custom printed plastic bags, medical bags, or can liners, we have you covered. We also provide large plastic bags like furniture bags, mattress bags, pallet bags, and more.

High-quality standards

: We produce a range of plastic bags cost-effectively while maintaining high-quality levels. During the manufacturing process, we leverage high-quality plastic resins that comply with all the standards outlined by the FDA.

Customization:

  We also offer a range of customization services to ensure you get the exact bag you need for your product in any size, shape, color, and with any text, image, or logo printed on it. 

Pricing

: Our products are available at wholesale prices that guarantee huge savings. We provide attractive offers on bulk ordering.
Order Wholesale Food Grade Plastic Bags Today at Affordable Prices
Universal Plastic has been providing businesses with high-quality plastic food bags for over 20 years. Our products are ideal for a broad spectrum of packaging and storage needs. At Universal Plastic, we assure quick turn delivery compared to our competitors. Contact us today to order wholesale food-grade plastic bags at affordable prices.