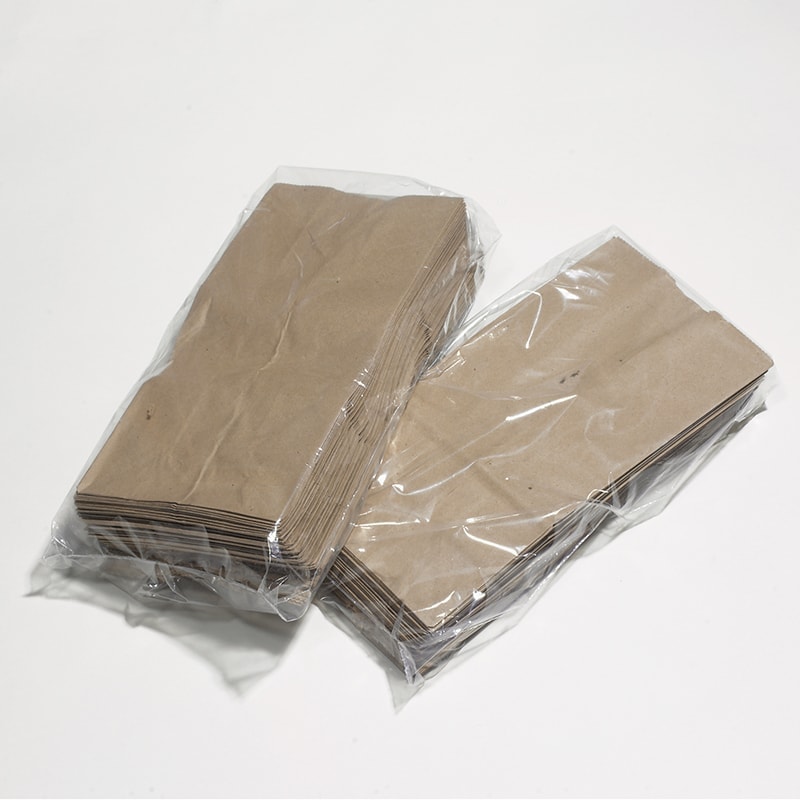 Ask for Special Bulk Pricing
Low Density Gusseted Poly Bags
Choose from Universal Plastic's wide variety of Gusseted Poly/Plastic Bags. You can also avail yourself of huge discounts by ordering in bulk! Gusseted bags utilize either creased side or bottom gussets – i.e., material added to the sides or bottom of the bag – to extend capacity and increase volume. This makes them the perfect solution for packing or storing irregular-shaped products of any kind. Our gusseted bags are engineered with 100% virgin low-density polyethylene (LDPE) resins, making them safe for food applications. As a widely known and well-established leader in gusseted poly-bag manufacturing, Universal Plastic is committed to offering the fullest selection of sizes and gauges of gusseted bags to meet your demands.
Subcategories
What Gusseted Poly Bags Thickness (Mil) Is Right for You?
All of our gusseted poly bags are more robust than the competition because we design them to withstand real everyday use. For particularly strenuous applications, Universal Plastic offers gusseted bags with double or triple side-wall thicknesses to ensure that sharp and rough objects, such as hardware, do not rip or weaken the bag even over extended periods.
We are happy to work with you to find the appropriate thickness according to your applications. Our gusseted poly bags come in the following thicknesses:
Benefits & Features of LDPE Gusseted Poly Bags
Universal Plastic's gusseted polyethylene bags provide excellent protection for the items stored inside. They also meet and exceed FDA requirements for food industry applications, being manufactured from virgin materials. Our gusseted plastic bags provide enough slack for a wide range of items while allowing objects to stand upright, and the slack conveniently expands the bag's size when filling loose items such as screws, bulk foods, or clothing.
These LDPE gusseted plastic bags are slightly transparent, making it easy to identify the contents within. Due to Universal Plastic's advanced manufacturing methods, all of our gusseted bag products are the preferred choice by vendors everywhere due in large part to the numerous customization options available. Our gusseted plastic bags come in an extremely wide variety of:
Sizes

Shapes

Thicknesses

Styles
Our customers also rely on us for their wholesale gusseted-bag needs because our products have a broad range of benefits, including:
Excellent puncture and impact resistance

Fully recyclable and non-toxic materials

Ultra-convenient transparency and clarity

Full protection of the contents from dust, dirt, and moisture

Easy-access bar codes and labels for quick identification (bulk orders)
Our gusseted bags undergo advanced quality-assurance protocols to ensure each production line meets our stringent standards. In all these ways and more, we strive to give our customers ultimate peace of mind.
Applications of Gusseted Polyethylene Bags
Gusseted poly bags are a more highly evolved bag design and have become more common than non-gusseted bags. As a world-leading LDPE gusseted bag manufacturer, we supply gusseted bags to companies in industries as diverse as apparel, garment, fabric, medical, food, and pharmaceutical, among others. Applications of gusseted bags are virtually unlimited because they allow people to efficaciously store an unlimited variety of products, such as:
Coffee grounds, potpourri, spices, and organic teas

Nuts and bolts

Hardware items

Crafts, gardening/soil

Tape rolls, books, and confections

Clothing, towels, and gift baskets
---
Gusseted Plastic Bags at the Best Wholesale Prices from Universal Plastic
We are committed to providing our customers with affordable, wholesale packaging according to their exact needs without delay. Universal Plastic's knowledgeable sales representatives eagerly work with our customers from the very beginning to ensure they can quickly find the most suitable options for their company, and we believe that our success depends on the fullest satisfaction of our customers. These are just a few of the reasons we've become one of the most trusted and successful gusseted-bag manufacturers in the USA. Contact us with any questions or to place your order today.