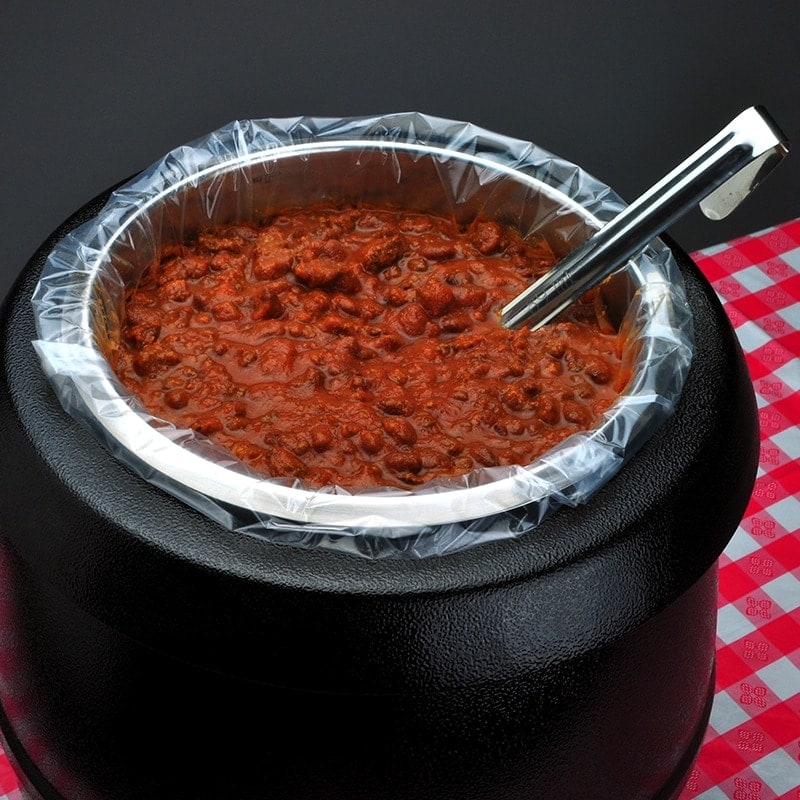 Ask for Special Bulk Pricing
Poly-Nylon Pan Liners
Universal Plastic's Poly-Nylon Pan Liners - a superior choice for simplifying your cooking and baking experience. Crafted from a robust blend of Polyethylene and Nylon materials, these liners provide unmatched protection that stands the test of time. Say goodbye to laborious cleanup and embrace the convenience of Poly Pan Liners. These liners save you valuable time and protect your cooking equipment from the challenges of cooked-on residue. Discover the benefits of hassle-free cooking and the cost-effective advantages of our Value Plus and Heavy Duty Value Plus Pan Liners.

Available Types:
1.0 Mil Poly Pan Liners
Value Plus Pan Liners
Heavy Duty Value Plus Pan Liners
Subcategories
Key Features:
Exceptional Protection: Our Poly-Nylon Pan Liners are engineered for excellence, offering unparalleled protection for oven baking and roasting pans, steam table serving pans, cooking pots, baking sheets, and more. Bid farewell to endless scrubbing and maintenance.
Cost-Effective Solution: Enjoy substantial labor cost savings by reducing the cleanup time by half. Our liners simplify cleaning, allowing you to focus on what you do best – cooking and baking.
Short-Term Food Storage: These liners are excellent for short-term food storage. Lift them from the pan and secure them with a twist tie, ensuring the freshness of your creations.
No-Stick, No-Burn Guarantee: Our Pan Liners prevent sticking, burning, or discoloration of cooking pans, maintaining the pristine condition of your pans and enhancing the quality of your dishes.
Tear Resistance and Durability: Built to withstand the demands of serving pans, our Pan Liners are tear-resistant and reliable, ensuring your culinary presentations remain impeccable.

Reasons to Choose Pan Liners:
Microwavable Convenience: Our Pan Liners are microwavable, offering versatility and ease in reheating your dishes.
Heat and Freeze Resistant: Value plus Pan Liners are heat-resistant up to (+) 400 degrees F and freezer-safe to (-) 100 degrees F, ensuring they withstand various cooking and storage conditions.
Effortless Usage: With convenient sizes available for all popular pan dimensions, using our Pan Liners is effortless and hassle-free.
Sanitary and Space-Saving: Enjoy the ease of use – discard the liner and sanitize the pan. Our space-saving packaging is available in liner dispensing cartons or rolls, with twist ties for Heavy Duty Pan Liners.

Upgrade your culinary journey with Universal Plastic's Poly-Nylon Pan Liners. Experience the convenience of simplified cleanup, cost-effective benefits, and enhanced protection for your cooking equipment. Choose us for quality, innovation, and reliability in every liner. Unlock the potential of hassle-free cooking today and discover why our Pan Liners are the perfect choice for chefs and bakers alike. Your satisfaction is our commitment.