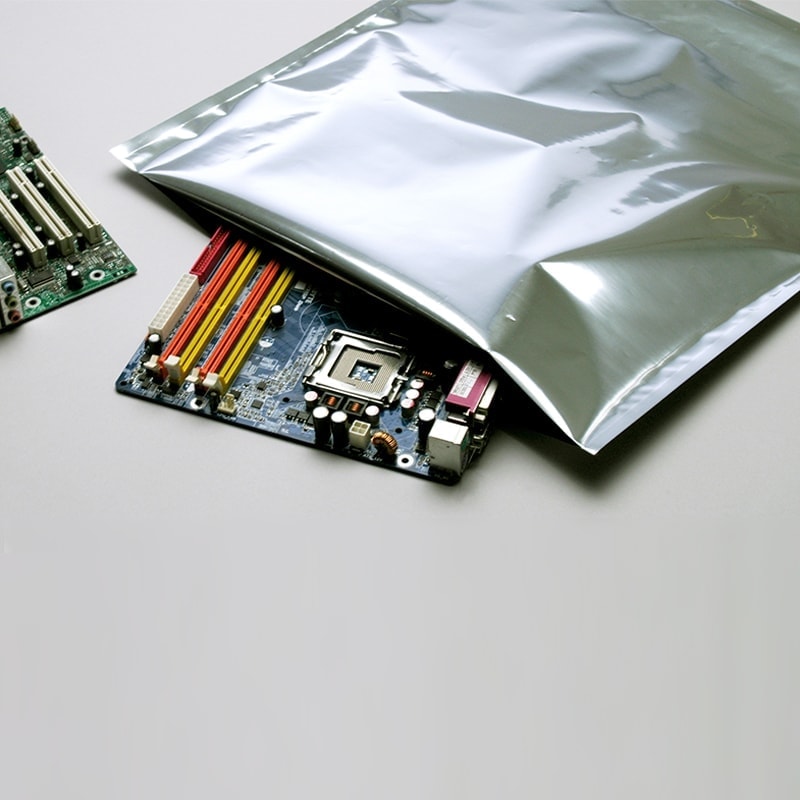 Ask for Special Bulk Pricing
Anti-Static Moisture Barrier Bags
Unveil the superior protection of Universal Plastic's Anti-Static Moisture Barrier Bags - designed exclusively for the "dry packaging" of moisture-sensitive electronic components. These bags feature top-of-the-line barrier materials that deliver a triple layer of protection against moisture. These bags are water, vapor, and grease resistant, making them an ideal choice for all your storage needs. Experience the peace of mind that comes with superior Electrostatic Discharge (ESD) and Electromagnetic Interference (EMI) shielding, ensuring your contents remain pristine throughout their journey. Our bags not only meet but exceed the stringent requirements of EIA Std. 541 and are recommended for EIA Std. 583, Class 1. Choose Universal Plastic's Moisture Barrier Bags and elevate your packaging to a new level.

Specifications:
Thickness: 3.6 Mil
Features: Waterproof, vapor-proof, greaseproof, heat sealable, moisture proof bag.
Shielding: Superior ESD and EMI shielding
Subcategories
Key Features:
Unparalleled Moisture Defense: Our moisture barrier bags provide an impenetrable shield against moisture, keeping your sensitive electronics completely dry even in challenging environments.
Superior ESD and EMI Shielding: Trust in our bags' superior ESD and EMI shielding capabilities. Your valuable components are safe from electrostatic discharge and electromagnetic radiation, preserving their integrity.
EIA Std. 541 and EIA Std. 583, Class 1 Compliant: Our bags exceed the electrical and physical requirements of EIA Std. 541. Recommended for EIA Std. 583, Class 1, ensuring your packaging aligns with industry standards.
Waterproof, Vapor-Proof, and Greaseproof: The ultimate protection package – our bags are not just waterproof and vapor-proof but greaseproof, offering comprehensive defense against various potential hazards.
Easy Heat Sealing: Seal your contents with ease using our heat-sealable bags. This feature ensures a tamper-proof and secure packaging solution for your valuable electronics.
Applications:
Electronics Industry: Safeguard delicate electronic components during packaging, storage, and transit, ensuring they arrive pristine, free from moisture-related damage.
Quality Assurance: Maintain the highest quality assurance for your customers using our moisture barrier packaging to protect sensitive items.
Elevate your protection strategy with Universal Plastic's Moisture Barrier Bags. Our commitment to quality shines through in every bag, ensuring your electronics remain safe, secure, and free from moisture-related issues. Choose us for your packaging needs and experience the difference that advanced moisture defense can make. Your sensitive electronic components deserve nothing less than the best.