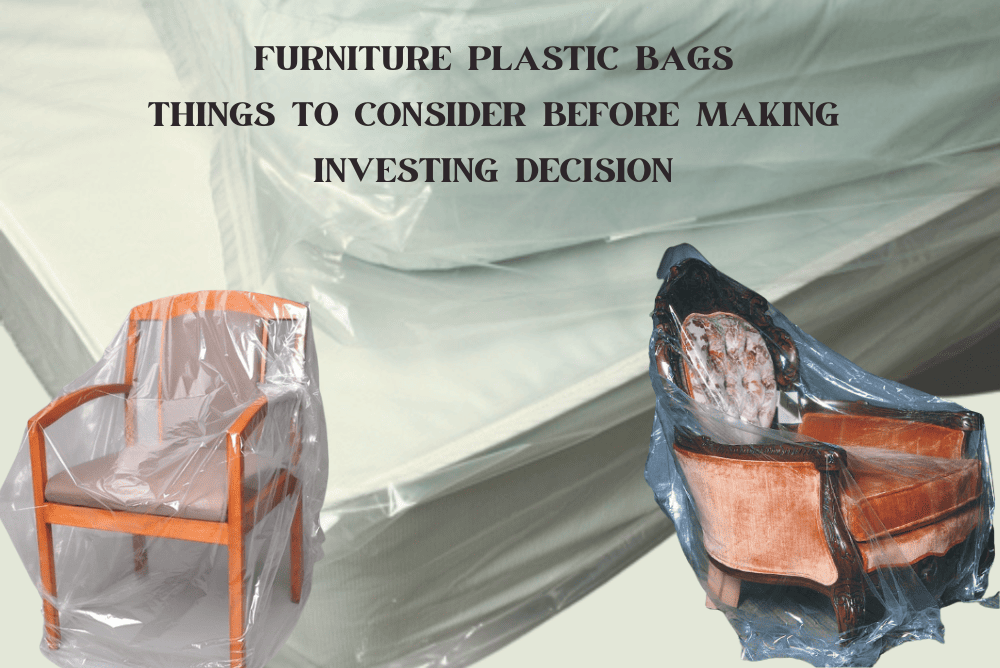 Safe packaging of any product to be shipped, stored, or transported must be done carefully and while complying with industry standards. Packaging large and heavy items such as furniture needs to be carefully done to prevent any damage in transit. Appropriate packaging using the right materials protects the furniture in transit and leaves space for printing logos and interesting content. This helps promote the brand. Several packaging options are available in the market, out of which furniture plastic bags are quite popular. They act as a protective layer that safeguards furniture pieces against dust, moisture, scratches, and other possible damages. However, choosing the appropriate furniture plastic bags requires careful consideration of various factors. In this post, we will explore important factors to take into account when choosing plastic bags for furniture.
Factor Considerations When Selecting Furniture Plastic Bags
Among the various packaging options available, how can you choose the appropriate plastic bags that suits your requirements? The following are some key factors that can ease the selection process.
Size and Capacity: When it comes to furniture plastic bags, one must consider the diverse array of furniture sizes and shapes that exist. Selecting a bag that offers protection and comfortably accommodates the specific items being packaged becomes crucial. Careful consideration of weight, volume, and dimensions becomes paramount to ensure the bags are adequately sized to provide proper coverage. By carefully evaluating these factors, you can rest assured that your furniture will be shielded from potential harm while ensuring a seamless fit within the confines of these versatile plastic bags.
Durability and Strength: Most furniture products are heavy and require packaging that can withstand stress and weight during transit and storage. Select high-quality plastic bags, which also offer great strength and durability. Plastic films such as polyethylene or polypropylene are commonly used materials for making gusseted plastic bags for furniture protection.
Protection from Environmental Factors: Wood is a timeless and versatile material used in furniture production. However, it may be susceptible to damage caused by dust, water, and so on. Furniture bags must offer protection against these elements to maintain quality, prevent damage, and increase shelf life. Look for bags that provide UV protection and are moisture resistant. Also, consider features like tight zipper seals, dust-proof closures, and more to keep them safe during storage.
Ease of Use and Handling: Efficiency and convenience are important factors when selecting these bags. Ensure that furniture bags can easily open and close during packing and unpacking. Certain features in packaging bags can facilitate the comfortable lifting and carrying of items. This includes reinforced grips or handles, adhesive strips, and much more.
Branding and Customization: Packaging of the product allows leading brands to enhance their brand identity and make an unforgettable impression on their target audience. Select bags that can be customized with your logo, specific product information, or element. Customized furniture plastic bags also function as a marketing tool. Select high-quality printing or labeling options to showcase the brand image.
Cost Effectiveness: Cost consideration is essential; however, it should not be the sole determining factor. Before buying furniture bags from any industry-leading supplier, evaluate the pricing structure and discounts offered by a supplier to ensure that you are getting the best value for your investment. Balance the product price with features, suitability, and quality for your packaging needs.
These pointers on selecting furniture plastic bags may offer you some clarity. If you still have doubts or need help deciding, consider consulting experienced industry players like Universal Plastic. With vast years of market presence and a team of experts, the company provides a wide range of plastic bags for furniture, such as wholesale mattress bags, gusseted plastic bags, and more. All these bags can be customized considering your requirements. Contact their team today to discuss your furniture plastic bag requirements.
---