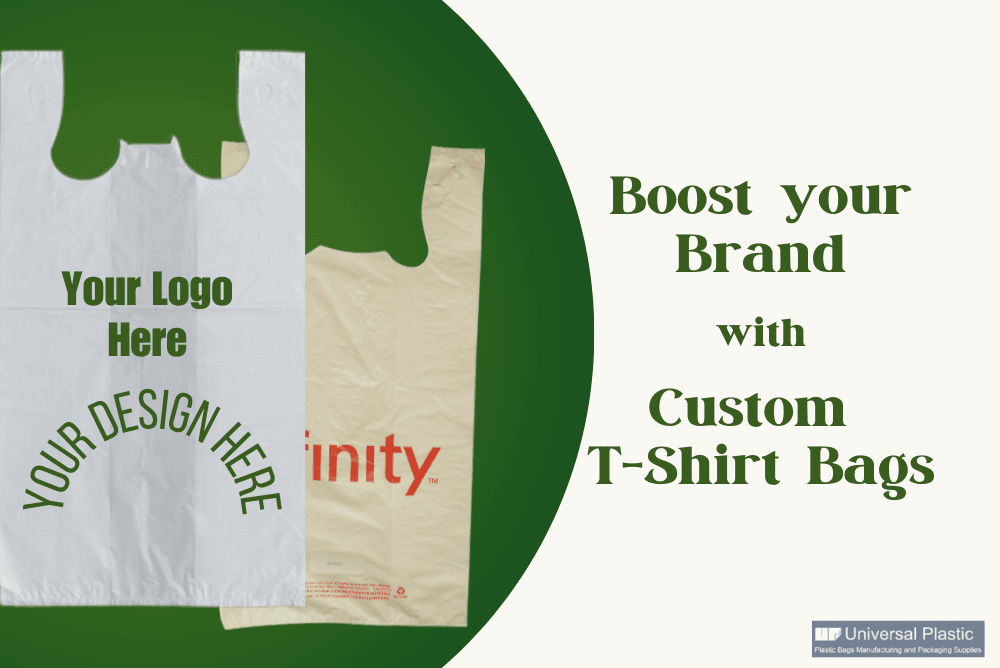 You've probably seen them before T-shirt shaped plastic bags with a company's logo or slogan printed on them. They're called custom T-shirt bags, and they're a great way to promote your brand. T-shirt bags are typically made from high density polyethylene (HDPE) or low-density polyethylene (LDPE) and are available in a variety of colors and sizes. These bags usually have a handle for easy carrying, and many also have a gusset that allows them to hold more items. These plastic bags are now largely used to promote brands and make an appeal among customers. Would you like to know how? Keep reading the post!
Ways to Use T-Shirt Bags for Brand Promotion
Custom T-shirt bags are an inexpensive way to get your brand in front of people. They're also practical items that people can use, which means they're more likely to keep and use them. Also, if your custom T-shirt bags are made from recycled materials, that's even better - people will appreciate your brand's commitment to sustainability. Custom T-shirt plastic bags can be used to promote your brand in several ways, which are listed below.
Promotional Giveaways: As a business owner, you might be always on the lookout for new ways to promote your brand and increase sales. One of the most effective ways to do this is by giving away promotional products. People love free stuff, and when they receive a promotional product from your company, they'll be more likely to remember your brand and do business with you in the future. One of the best promotional products you can give away is a custom T-shirt plastic bag. These bags are highly visible and can be used repeatedly, which means your brand will get maximum exposure. Plus, they're highly affordable, so you can give them away without breaking the bank.
Retail Marketing Tools: It is no secret that first impressions are important, especially when it comes to businesses. In today's competitive market, it is essential that businesses find ways to differentiate themselves from their competitors. One way to do this is through customized T-shirt plastic bags. These bags make an excellent retail marketing tool because they allow businesses to put their logo and brand colors on full display. This is a great way to make a positive first impression with potential customers.
Stand Out in Tradeshows: There are often hundreds of exhibitors all vying for the attention of attendees. So how can you make your booth stand out? One way is to use customized T-shirt plastic bags. They are eye-catching and durable, which makes them ideal for carrying around brochures, and other promotional materials. Custom t-shirt bags make great goodie bags for tradeshows and events.
Walking Advertisements: Custom t-shirt plastic bags are key in building client relationships as they are an essential part of the advertising process. By giving potential and customizing a bag with your company name and logo, you are inspiring them to promote your brand. Not only does this promote name recognition, but it also helps build brand loyalty and goodwill. Potential and current customers alike will appreciate the gesture and be more likely to do business with you in the future. Additionally, customized t-shirt plastic bags can also be a great way to show appreciation for current clients and to thank them for their business.
Packaging Items: Customized T-shirt plastic bags make great packaging items. You can use them to package any delicate or bulky object. Most users would love to retain bags that are lightweight, yet sturdy. In this way, they would start associating your brand with trust and reliability.
In today's retail environment, custom printed plastic t-shirt bags are a necessity. They provide an easy way for customers to take their purchases with them, and they can also help to promote your brand. But not all T-shirt bags are created equal. To get the most out of these bags, it's important to choose a high-quality option that is customized to your needs. Leading plastic bags manufacturers like Universal Plastics understand the importance of customization. They use high-quality materials and printing techniques, so your bags will look great and withstand heavy use. Enhance your promotions and branding efforts with wholesale custom T-shirt bags,
Trade show bags
, and shopping bags. Contact the team at Universal Plastics to discuss your requirements as well as learn more about wholesale T-shirt bags.
---