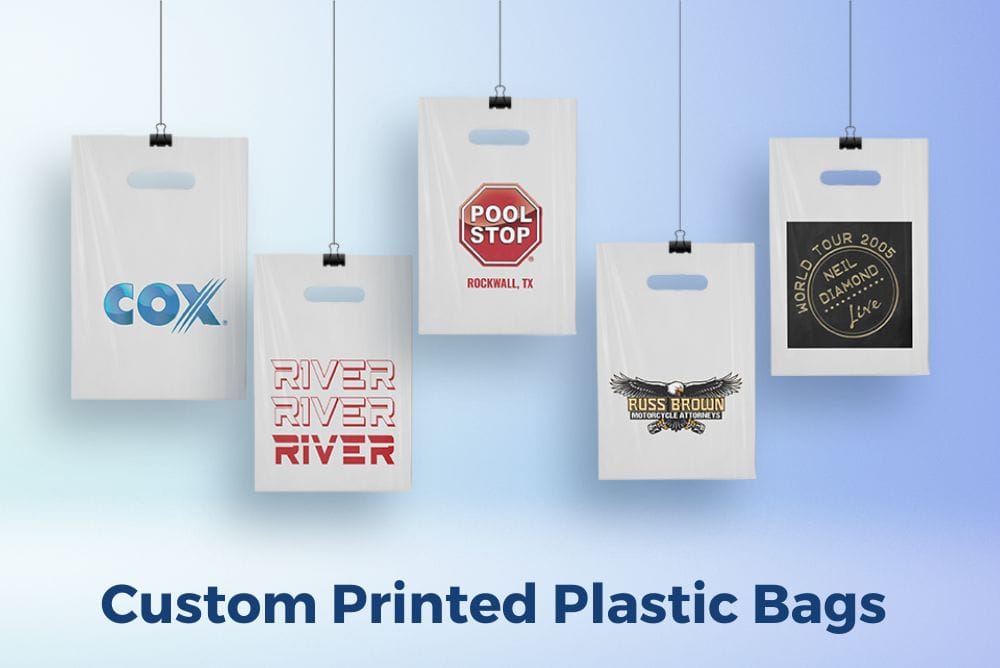 Printed plastic packaging has been around for a while, and will continue to stay as long as businesses understand the importance of branding. Although custom-printed plastic bags may look normal or simple, they influence customer's minds in-depth. This post oversees how printed plastic bags help businesses to accomplish their branding objectives.
Why Printed Plastic Bags are Important for Your Branding
Branding may seem like a single term, but it can affect your business in many ways. If handled properly, branding can percolate customer consciousness, with the impact lasting for centuries. Over the years, companies have invested in many promotional techniques to accomplish their branding objectives. Among them,
printed plastic bags
remain quite popular. These are not mere branding tools; rather they serve in many ways. The following pointers will help you understand why these bags are essential for branding.
First Impression Counts: If you have visited supermarkets for groceries, cosmetics, or other purchases, you tend to get spoilt by choices. You often recognize the brands by their logos and colors, right? These are the features that make your brand stand out on the shelves. Hence, always ensure that design elements like fonts, images, and logos align with your brand's messaging and help create a strong visual identity for your business among the crowd of similar products.
Building Trust: A brand value is reinforced into the minds of customers through the information printed on the custom-printed plastic bag packaging. Information like benefits, usage instructions, product information, and country of origin must be printed such that it becomes easily visible to a reader, without overpowering the product. This information makes it a lot easier for users to understand what value the product in their hands would offer.
Engaging Customers: It is common for any human to get attracted to another person who considers and engages them naturally. Knowing this, nowadays, many businesses are incorporating augmented reality (AR) components, QR codes, media handles, and gamified experiences that enable users to engage with the brand effortlessly.
Use it Up, Wear it Out, Make it Do, Or Do Without: In 2018, the United States Environmental Protection Agency (US EPA) estimated that 14.5 million tons of plastic packaging waste is generated yearly. To avoid this, nowadays, the businesses are keen to invest in quality plastic packaging that would help reduce their carbon footprint and project themselves as one of the eco-friendly companies to work with. Similarly, reusable plastic packaging would help users cut down their waste and reduce their carbon footprint. It means, your brand information will be visible multiple times before ending up in a landfill. This means an added advantage for a single investment!
Make Deeper Bonds with Customers: Storytelling is the art of communication. It is used to express emotions, thoughts, experiences, and messages engagingly. The printed plastic bags feature narrative elements like logos, colors, texts, and illustrations to tell a brand story. These narratives help create emotional connections and deeper bonds between the product and the consumer.
Driver of Business Growth: A customer receiving a quality custom printed plastic bag will likely recommend your brand to others. Generally, a positive word of mouth is a driver of business growth.
Perfect Utility Tools: Printed plastic bags are less expensive than other packaging options, making them popular with businesses of all types. Adding to this, wholesale plastic bags are even more affordable, making them a perfect tradeshow giveaway, too. People use quality custom printed plastic bags to keep their tradeshow gifts. This way, they will be thankful to the brand that gave them a helping hand when it was much needed.
Those mentioned above are only a few ways as to how printed plastic bags help accomplish your branding objectives. However, investing in good quality printed plastic bags will help realize many more benefits. Suppose you have been considering wholesale plastic bags for your tradeshow giveaways or printed plastic bags for your regular brand promotions, you can consider sourcing them from Universal Plastic.

The company customizes various types of plastic bags to meet your branding requirements. You can get your brand logo and information printed on handle bags, merchandise bags, T-shirt bags, takeout bags, umbrella bags, etc. All these bags can be customized with branding information like logos, AR components, QR codes, and other promotional sales information to meet your branding requirements. It doesn't matter whether you wish to source these bags for regular, seasonal, or special promotions; you can be assured of the quality of printing and the material used for construction. Get in touch with the experts at the company to discuss your branding requirements.
---