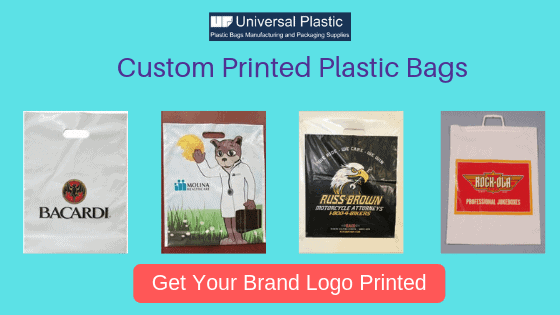 Over the years, businesses have been investing in billboards, television commercials, and several other promotional items to establish their brand in the minds of their customers. Additionally, they have been investing in various small and large customized promotional items to make their brand stand out in the crowd. Although many of these promotional items have a certain impact on viewers and customer's mind, nothing can match the intensity of impact created by a custom printed plastic bag. In recent years, there has been a big shift towards bags made of natural fiber or eco-friendly materials; however, custom printed personalized plastic bags remain a favored choice for many businesses. What makes them popular? Read the post to find answers.
5 Benefits of Investing in Custom Printed Personalized Plastic Bags
A custom printed bag can help improve your brand value in many ways. However, these five reasons will help you understand what makes them special.
A Big Canvas for Promotional Information: Let's answer the basic question – what is the main requirement of an advertiser? Perhaps, a canvas that offers space to include all the important business information a reader would like to know, isn't it? This requirement is perfectly matched by a small or large plastic bag. Taking advantage of advanced printing technologies, you can easily incorporate all your business information on these bags. By packing the purchased items in these bags, you can help your clients memorize your address, contact details, and working hours.
Lightweight: How does this feature add value to your business? Although eco-friendly promotional bags are good to see, they add to the total weight of the stored item. On the other hand, custom printed plastic bags will add weight to your brand name without increasing the weight of stored items.
Reusable: Most promotional plastic bags with a logo are reusable. Your customers would love to reuse them several times before they wear out. This will provide you several chances to make an impact on the minds of customers. Thus, you can do free advertising several times in one-time investment.
Abundant Varieties Available for Consideration: Plastic bags are available in various sizes, styles, and materials of construction. They are made of a variety of plastic resins; however, polyethylene is the most common material. Low-density polyethylene (LDPE) and polyethylene high-density (PEHD) or high-density polyethylene (HDPE) are the two most common variants. If you approach a plastic manufacturer like Universal Plastic, you have the opportunity to choose from a variety of options including anti-static bags, FDA bags, resealable bags, pallet covers, mattress bags, medical bags, vacuum pouch – vacuum bags, and so on. These plastic bags can be easily customized with your business logo and other information.
Simplifies Every Day Storage and Packaging Hassles: Do you know what makes promotional gifts popular with customers? They add value to their lives in many ways. Promotional plastic bags with logo can do the same. In addition to carrying and securing their purchased products, these versatile bags can be used for a variety of applications such as packing and carrying materials during long-distance travels, packing materials for storage in adverse conditions, and so on. This way your customers will definitely remember a brand that assures reliability and helps simplify their daily storage, packaging, and transportation hassles up to a certain extent. If they happen to carry your bag to distant places, perhaps your brand will receive free advertising outside your local area.
There are several more potential benefits you can easily realize by investing in custom printed personalized plastic bags. As said before, there are abundant varieties of plastic bags available for selection at Universal Plastic. If you are unable to make the right choice, you can approach the team of experts at the company. They will not only help you in bag selection but also allow you to make the right customization.
---