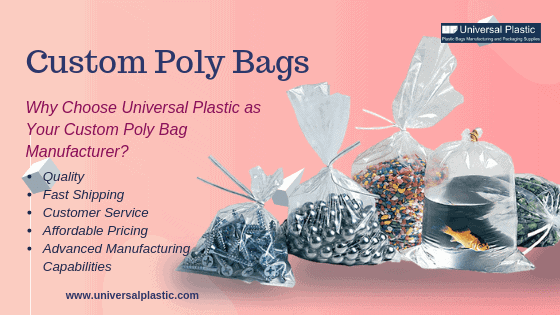 Poly bags are one of the most common types of plastic bags, which are used to transport and store a variety of items. These bags are lightweight and possess a sleek design, smooth curves, and are flexible in nature. Poly bags are affordable, and available in a variety of colors and sizes. Owing to their versatility and popularity, today, it is easy to find several custom poly bag manufacturers in the US, and Universal Plastic stands tall among them. The company has been around for over twenty years, and specializes in custom poly bags. How is the company different from its other competitors? This post discusses why you should consider Universal Plastic for your custom printed poly bags.
What Makes Universal Plastic a Preferred Custom Poly Bag Manufacturer and Supplier among its Clients?
Protecting purchases from weather elements and contaminants is always important. This is where poly bags can help. It is important to purchase these bags from trusted manufacturers like Universal Plastic. The following points will help you understand how Universal Plastic stands out from its competitors.
A Wide Array of Products: Universal Plastic offers a wide variety of poly bags to meet storage and shipping needs of industries. Their product line includes the following and more: All these bags are provided in standard and custom sizes, with logos printed on them. Fonts, colors, and logos can be easily customized to ensure that the poly bag matches the branding requirements of users.
Advanced Manufacturing Capabilities: The Company produces all its bags at its well-equipped facility in Ontario, California. Over the years, Universal Plastic has invested in advanced quality equipment and technologies, which helps it assure quality production. As the company produces all its bags at its facility, so it doesn't need to rely on middlemen to source their products, and cut on several costs.
Quality: With strict adherence to quality, the company has won good reviews from its customers over the years, and repeat business, too. All its bags are made of high-quality 100% pure raw materials, so they are tough to carry loads and protect goods. The bags are designed such that they protect stored items from harsh environmental elements and standard contaminants.Many poly bags from Universal Plastic have already gained popularity in the market, owing to their high quality, yet special designs. For instance, mattress bags, which are one of the important types of furniture bags, are designed to provide extreme protection to mattresses and pillows. These bags are made from heavy gauge material such as generous gusset, which protects against contamination and dirt. Generous gusset material allows the bag to slip on pillow top and standard mattresses. Additionally, these bags feature vent holes, which help get rid of excess air.
Industries Served: Since inception, Universal Plastic has served clients from across industries. It understands their typical requirements, and has been successfully supplying them with custom poly bags for the past many years. The company has served clients from small local businesses to multinational corporations. These clients belong to industries such as medical and healthcare, food and pharmaceutical, amusement parks, casinos, fashion and apparel, laboratory, electronics, and more.
Fast Shipping: Universal Plastic assures the fast shipping times in the industry. It understands how various businesses use custom poly bags for branding purposes. The companies that use these bags on a regular basis cannot afford to lose an opportunity to promote their brand. So, the team at Universal Plastic works hard to ensure prompt delivery of plastic bags.
Customer Service: Being a customer-centric custom printed poly bag manufacturer, customer satisfaction is at the core of its business. Customer service executives at the company work with clients to address their business needs and suggest them appropriate bags. Their industry experience coupled with their knowledge on the bag specifics for each industry allows them to serve clients efficiently.
Affordable Pricing: The Company provides quality bags on low prices, and provides 5% to 60% off on bulk purchases of certain products. The affordable pricing coupled with quality bags makes these poly bags popular with its customers.
Universal Plastic assures the same attention to all its clients irrespective of their business size. Owing to its excellent customer service capabilities, Universal Plastic is also counted among one of the leading poly bag suppliers in the US. Please visit the website for more details.
---