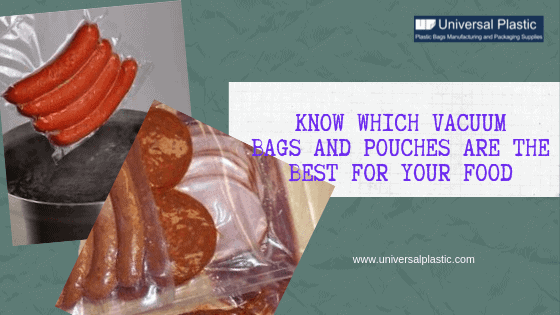 Storing food items in vacuum seal bags is pretty common and convenient on both domestic and commercial levels. There are vacuum storage bags, which can be refrigerated and even frozen, thawed, and then heated. FDA-approved, good-quality thick plastic needs to be used for such bags to store food, as the bags be capable to withstand hot and cold temperatures. They should not melt when heated or crack and tear up when frozen. This happens when low-quality thin plastic bags, and hence FDA has separate standards for storing food items as there should be no risk of the melted plastic entering the food items inside. This post discusses various types of storage vacuum bags, and which ones are the best for storing food items.
Types of Plastic Vacuum Storage Bags
There are various types of vacuum seal bags in terms of their type, size, use, and so on. Here are a few bags which are considered the best to store food:
You can get your vacuum pack bags printed in case you want to promote your product. You can print your brand logo and mention the contents of your product with the kind of graphics you want. This is an easy way to promote the product. Since printed vacuum pack bags are reusable, customers tend to use it even after the contents are consumed.
Factors to Consider When Buying Vacuum Seal Bags
Here are some factors you should consider when you plan to buy vacuum storage bags:
Size of the bag: This factor would depend on the material you want to store and its volume. Also, it is important to decide if you need different sizes of bags or the same size.
Frequency of usage: How frequently you are going to open the bags is an important parameter. Especially when it comes to perishable foods. In that case, you can use small-sized bags, so that the food item inside is consumed in one go. If you remove some portion of food and again refrigerate the nag, the food inside is likely to perish.
Thickness: This is a very important parameter from the point of view the plastic being reusable. Thick plastic is durable and can be used again after washing it. This way, you can contribute to the environment by eliminating single-use plastic.
Bag rolls: If you require the same size of bags, buying a bag roll is a cost-effective option, especially when it comes to perforated bag rolls. Some bag rolls are not perforated. In this case you can cut the plastic to the size you want and seal it from both ends.
Food Applications of Vacuum Storage Bags
You can store innumerable things in these plastic bags. However, when it comes to food storage, here's what you can store:
Leftover food
Refrigerated chopped veggies and fruits to prepare a meal
Dry snacks and dry fruits
Snacks for outings and picnics
Packaged food for commercial sale
Are you looking for printed or plain good-quality vacuum seal bags? If yes, ensure you source them from a reliable supplier. Also, if you need them for food storage, make sure they meet the required FDA standards for food packaging. Universal Plastic is a known manufacturer and supplier of wholesale vacuum storage bags. You can get them at the best prices if you place a bulk order.
---