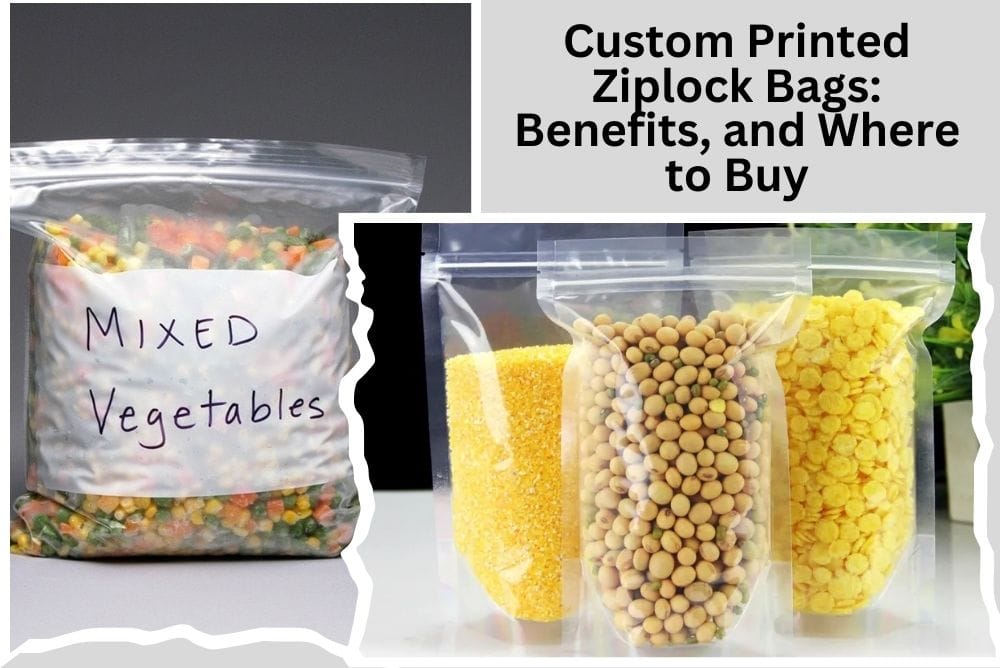 Storage requirements are changing across industries. Consumers, retailers, and manufacturers are all seeking effective ways to package or store their products. Ziplock bags are one of the most popular types of plastic bags available. The ziplock bags, which come in a variety of thicknesses and sizes, preserve the freshness of the items, making them perfect for long-term storage. However, custom printed ziplock bags have more to offer than storage. How? This post discusses the benefits and applications of custom printed ziplock bags.
Benefits of Using Custom Printed Ziplock Bags for Packaging and Promotions
The following are a few benefits of using custom printed ziplock bags for packaging and promotions.
Like other promotional bags, ziplock bags are customizable. They can be customized with logos, taglines, and other important information, which would help you promote your brand and increase brand recognition.
Ziplock bags help protect the product from dust, dirt, moisture, and other contaminants from entering the bag as these are airtight seals when closed.
They prevent the stored items from coming in direct contact with air and help keep them clean, dry, and fresh for a long period.
These bags offer convenience and reusability with their zipper closure mechanism, making them reusable, and allowing for convenient access to the contents.
Custom ziplock bags are primarily used for storing food items. However, they are also used for storing jewelry, electronics, and several delicate items.
Custom printed ziplock bags are usually retained by many people, which helps create a free marketing opportunity for a business. Every time, a person takes out these bags from a safe or a refrigerator they would see the brand logo and name, which gets reinforced in their consciousness.
A Few Popular Applications of Custom Printed Ziplock Bags:
Custom printed ziplock bags have a wide range of
applications across industries
. Here are some common applications for these bags:
Food Storage: Ziplock bags are widely used for storing food items. They can be used to store any type of food items, including pasta, cereals, spices, fruits, dairy products, and of course leftover food. They help maintain freshness, prevent spillage, and allow for easy access.
Organizing and Sorting: Ziplock bags are used for organizing and sorting small items like fasteners, components, and delicate parts, thereby keeping them manufacturing-ready.
Travel and Toiletries: Ziplock bags comply with Transportation Security Administration (TSA) guidelines and are used for carrying liquids on airplanes. These bags are often used to store and carry toiletries, cosmetics, and other travel essentials. Custom printed ziplock bags can also be used as promotional items or giveaways for travel-related businesses.
Document Protection: Zipper plastic bags can be used to protect important documents from moisture, dirt, and damage. Offices, schools, and individuals commonly use them to store and organize papers, certificates, passports, and other sensitive documents.
Medical and Healthcare: Ziplock bags are widely used in the medical and healthcare industries to store and transport medical supplies, samples, and medications. Custom-printed ziplock bags can also be used to promote medical practices or pharmaceutical products.
Crafts and Hobbies: Ziplock bags are commonly used by hobbyists, artists, and crafters to store and organize materials like beads, buttons, threads, and other small supplies. They keep items protected and easily accessible during crafting projects.
Custom printed ziplock bags have become a popular and useful option for packaging across industries. This means it must meet certain quality requirements for storage. It can only be met when you source these bags from a trusted manufacturer like Universal Plastic. The company provides wholesale zipper plastic bags to meet your needs. These wholesale zipper plastic bags printed with brand information are best for businesses that deal with the storage, packaging, and shipping of delicate items, including food items, jewelry, craft and hobby items, and so on. The team at Universal Plastic works closely with customers and ensures them the best prices on wholesale zipper plastic bags. This is perceived as an advantage by many start-ups and established businesses. You can contact the team at Universal Plastic today to learn more about these zipper-lock plastic bags, their availability, customization options, and many more.
---