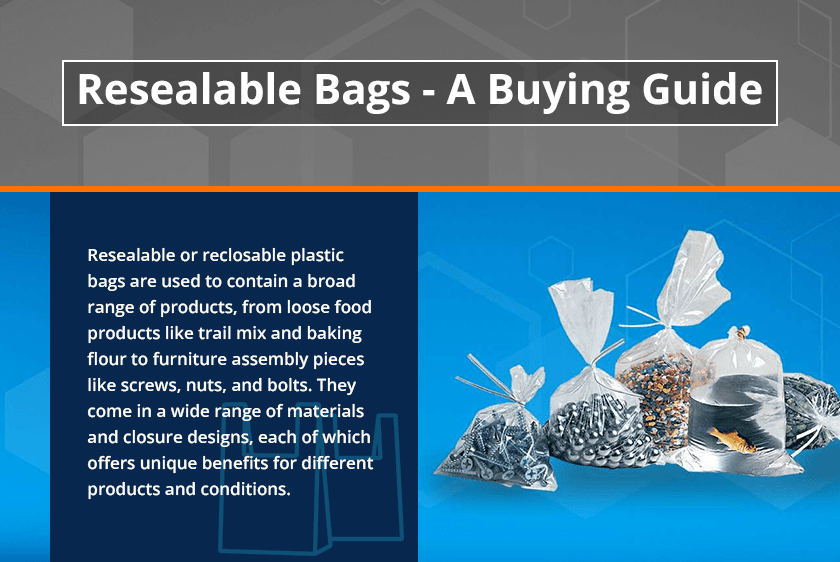 Table of Contents
Resealable or reclosable plastic bags are used to contain a broad range of products, from loose food products like trail mix and baking flour to furniture assembly pieces like screws, nuts, and bolts. They come in a wide range of materials and closure designs, each of which offers unique benefits for different products and conditions.
Universal Plastic offers a comprehensive selection of resealable plastic bags made from durable, lightweight polypropylene. Our selection of stock and custom bags can meet the requirements of any particular application. To help you find the right resealable bag for your needs, below we have outlined the different types of resealable bags, their advantages, and their uses.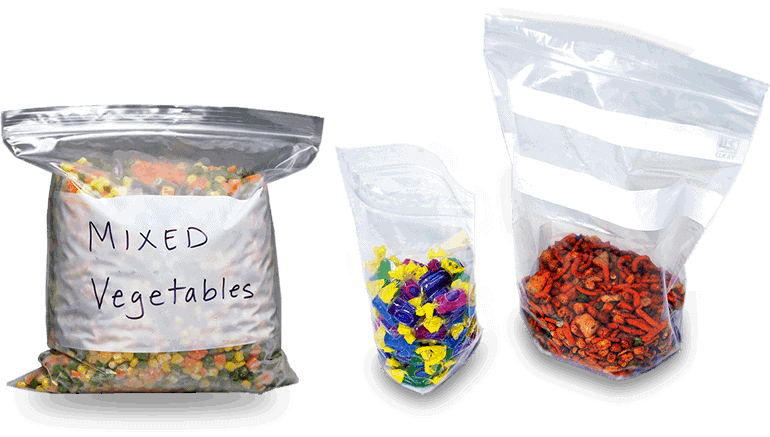 Selecting the Best Resealable Plastic Bag for Your Needs
When selecting the best resealable plastic bag for your needs, consider what closure style, density, and dimensions you'll need for the bag. Your product's requirements for freshness or leak-free storage can also determine whether you'll need a custom printed or stock bag design.
Types of Reclosable Poly Bags

Our polypropylene resealable packaging bags are available in three resealable styles:
Lip and Tape Resealable Plastic Bag

Lip and Tape Resealable Plastic Bag:

Lip and tape poly bags are lightweight, sealing with a self-adhesive strip applied to a fold-over lip. The adhesive is designed to open and close for repeated use. Since the seal is applied along a flat plane, these bags work best for items that are not sharp or angular and can be laid flat. When sealed, lip and tape resealable plastic bags are airtight and watertight. 

Ziplock-Reclosable Bag

​​

Ziplock-Reclosable Bag:

Universal Plastic's Seal Top Saddle Pack deli bags are specifically designed to keep sandwiches fresh and dry. The Ziplock closure ensures an optimal airtight and watertight seal. These bags are available in unprinted, stock printed, or custom-print designs.

Slide Sealed Bag

Slide Sealed Bag:

A variant of the Seal Top deli bag, our slide sealed resealable poly bag features a plastic slider to facilitate a quick and effective seal. They are clear, thick, and resilient. More durable and affordable than LDPE deli bags, slide sealed bags are a favorite for busy grocery stores and sandwich shops.
Which Size and Mil Thickness Should You Choose? 
When choosing the best plastic resealable bag for your operation, it is important to consider the size and durability of the bag. Working with bags that are too small or fragile for your needs can tear or split when filled, causing quality issues and waste. Bags that are too large or heavy-duty for your operation can be more difficult to handle, reducing your operation's speed and efficiency. 
Size Measurements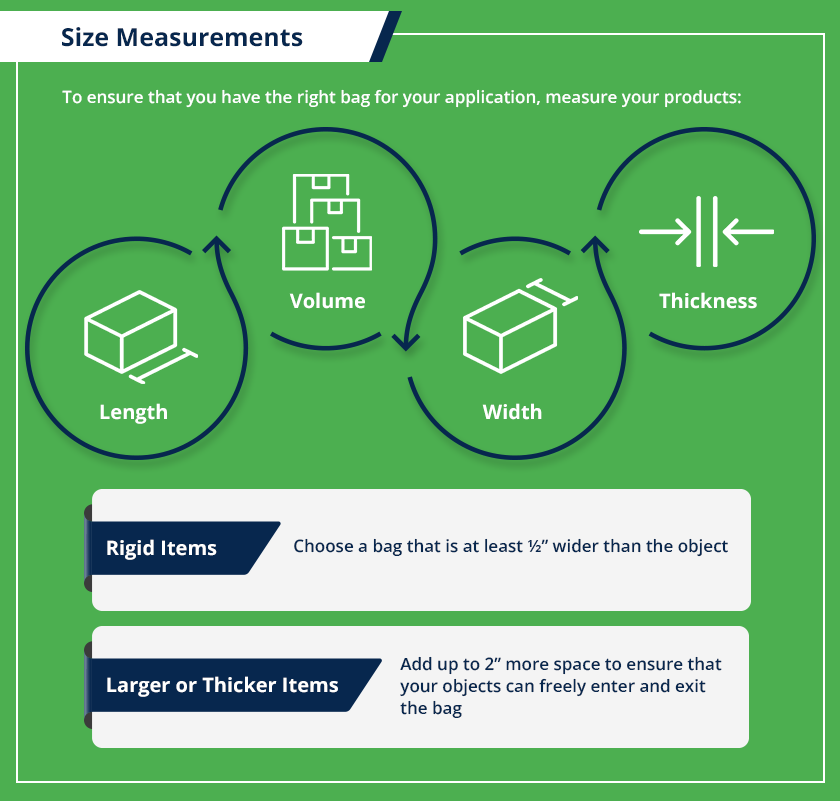 To ensure that you have the right bag for your application, measure the length, width, volume, and thickness of your product and compare it to the bag's measurements. The right bag should be able to comfortably hold the desired items without stretching or tearing. For rigid items, choose a bag that is at least ½" wider than the object so that the item can easily pass through the opening. For larger or thicker items, add up to 2" more space to ensure that your objects can freely enter and exit the bag and do not place unnecessary strain on the seal. 
Mil Measurements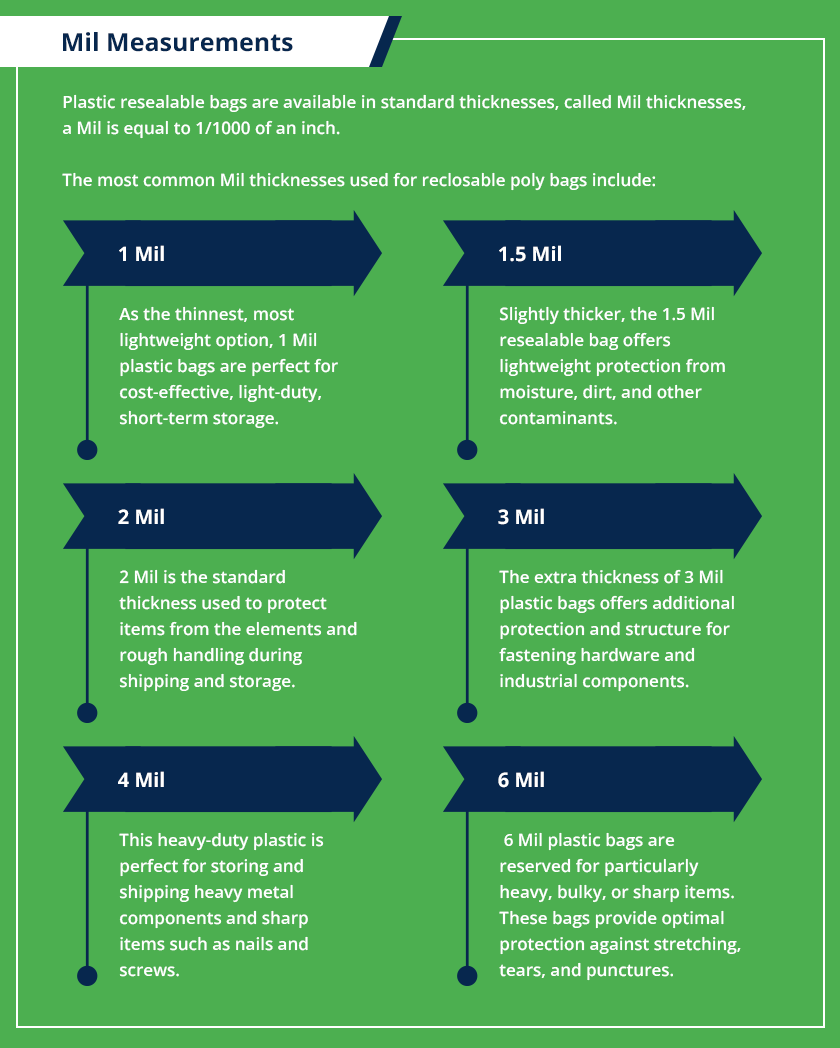 Plastic resealable bags are available in standard thicknesses, called Mil thicknesses. A Mil is equal to 1/1000 of an inch and is used to finely calibrate the thickness of plastic bags to ensure optimal effectiveness for a given task. Different brands have slightly different Mil scales for plastic bag thicknesses, but generally they range from 1 Mil for short-term storage up to 6 Mil for sharp, bulky parts that can pierce less dense bag materials.
The most common Mil thicknesses used for reclosable poly bags include:
1 Mil:

As the thinnest, most lightweight option, 1 Mil plastic bags are perfect for cost-effective, light-duty, short-term storage.

1.5 Mil:

Slightly thicker, the 1.5 Mil resealable bag offers lightweight protection from moisture, dirt, and other contaminants. 

2 Mil:

2 Mil is the standard thickness used to protect items from the elements and rough handling during shipping and storage. 

3 Mil:

The extra thickness of 3 Mil plastic bags offers additional protection and structure for fastening hardware and industrial components.

4 Mil:

This heavy-duty plastic is perfect for storing and shipping heavy metal components and sharp items such as nails and screws.

6 Mil:

6 Mil plastic bags are reserved for particularly heavy, bulky, or sharp items. These bags provide optimal protection against stretching, tears, and punctures. 
Custom Printed Resealable Plastic Bags with Your Logo or Design
Choosing the right bag for your needs also means selecting the perfect design or logo to promote your brand. Universal Plastic offers a selection of standard prints in a variety of colors. For more personalized packaging, we are pleased to offer custom printed resealable bags in many colors and finishes.
Using the latest design and printing technology, we produce custom resealable bags with eye-catching graphics and flexo-print designs. Our custom bags are available with front and back graphics, expandable bottoms for upright placement, and shine or matte finishes for an exceptionally professional appearance. Whether you wish to add a simple barcode or a complex brand logo, we have the capability to produce the perfect custom bag for your needs. 
The advantages of choosing Universal Plastic's custom resealable bag solutions are plentiful:
Advertise your brand:

Quality custom prints and graphics help your brand stand out and engage customer interest. Incorporate everything from original artwork to business contact information. 

Lightweight strength:

By choosing the right weight and strength for your product, you gain the advantage of effective product protection with minimum weight or bulk, which allows you to maximize your storage, shipping, and shelf space.

Repeated use:

Our custom reusable solutions put your logo on bags that your customers will reuse multiple times, for greater customer impact per bag.

Easy to use:

Reusable bags are easy to incorporate into your packaging operations, whether it's large-scale packaging or on-demand retail packaging. Size, Mil thicknesses, and sealing options can all be tailored to simplify your packaging, storage, shipping, and retail operations.

Material and design versatility:

Customized reusable bags are available in a broad range of materials, including LDPE, HDPE, and PEHD. FDA-approved, anti-static, medical, vacuum, and other specialized options can be accommodated along with your custom printed logo and business details.
---
Why Work with Universal Plastic?
Whether you're in need of resealable bags for wholesale, large-scale packaging operations or simple reclosable bags for food, the experts at Universal Plastic can help you find the perfect bag for your needs. All of our bags are designed to meet stringent USDA and FDA guidelines. We use the latest manufacturing technology to create customized bags that are resistant to punctures and tears. Our cutting-edge printing technology allows us to customize your bag with any graphics or text. Our highly versatile bags can be designed to withstand extreme conditions while maintaining a professional finish. 
To learn more about our extensive selection of custom and stock resealable bags,
contact us today
.



---