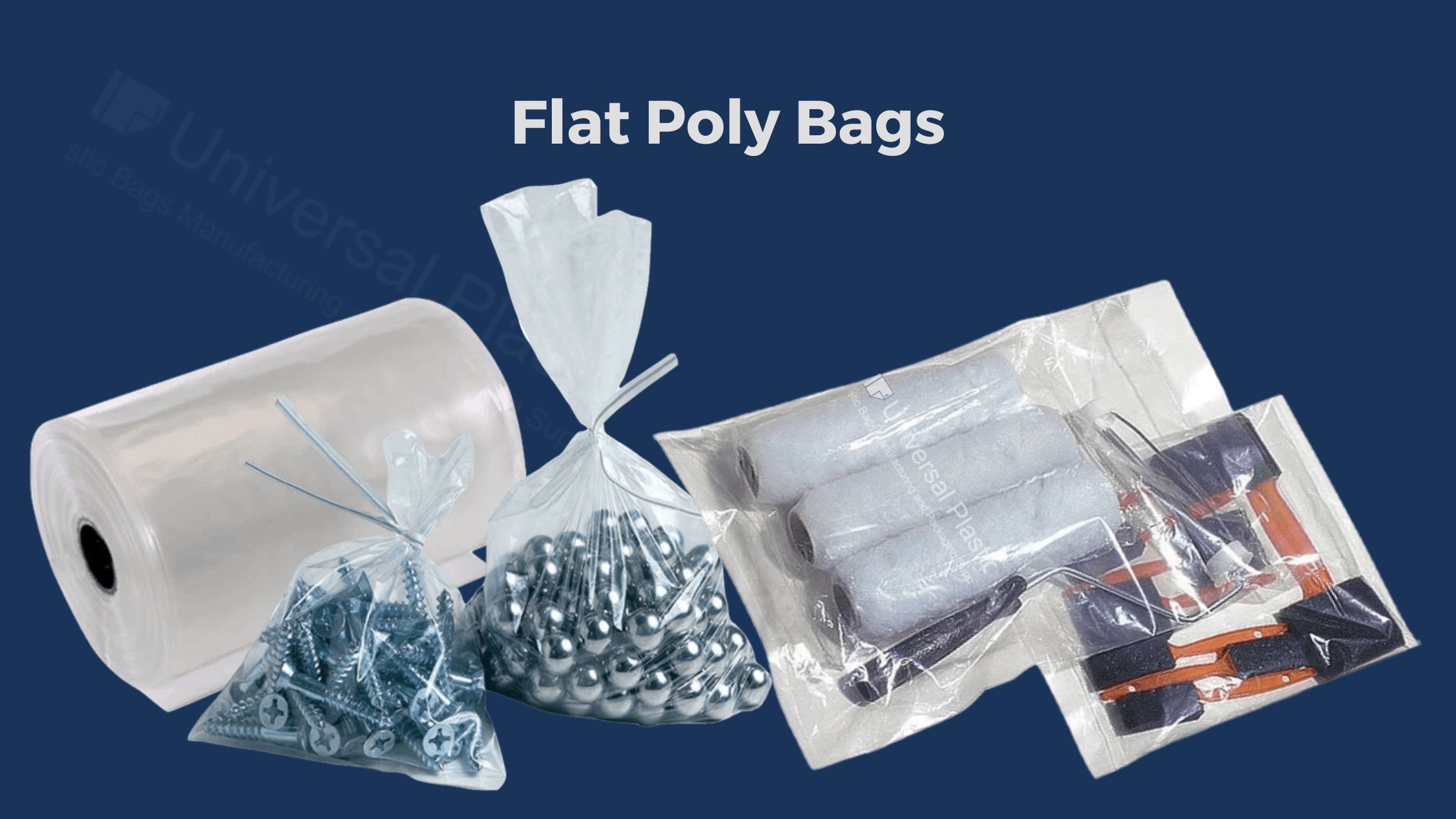 Product packaging is one of the most important aspects of retail and e-commerce. It protects your products from damage during shipping and helps to promote your brand. There are various packaging options available on the market today, from simple cardboard boxes to more sophisticated packaging solutions. If you are running a retail or e-commerce business, it is important to choose the right packaging for your products. In this post, we will discuss one of the most commonly used and popular packaging options available, i.e., flat poly bags.
What are Flat Poly Bags
Flat bottom poly bags not only designed to assure a safe and secure product packaging but also made to easily position on retail shelves or consumer stores. These poly bags are made from LDPE (low-density polyethylene), which is a soft, flexible material that is easy to work with. LDPE is also clear, so it's a great material for packaging that needs to show off the product inside. These bags can be custom-sized to fit your product. They're also resealable, so your customers can easily open and close the bag without damaging the product inside. Most
flat-bottom bags
also have gussets, which are triangular inserts that provide extra strength or allow for expansion on the left, right, and bottom sides. These features not only make the bags look more appealing, but also improve their overall strength and durability.
What Accounts for the Popularity of Flat Poly Bags
Flat bottom poly bags are used in various applications including food storage and packaging, medical/pharmaceutical packaging, and several other industrial and commercial packaging applications. These bags are made from high-quality polyethylene material and are available in a various sizes and thicknesses. They are manufactured to meet USDA and FDA specifications for food contact applications. The other benefits of this packaging supplies include;
They offer a larger surface area for printing and labeling.
The flat bottom design makes them easier to pack and transport.
They take up less space than traditional bags, making them more efficient to store.
These bags are a versatile and affordable packaging option for various products.
Made from 100% virgin low-density polyethylene, these bags are available in various thickness ranging from 1 mil to 6 mils.
They feature an open top and can be easily closed with twisted ties or tape. This, in turn helps to keep the contents fresh.
They are recyclable.
The packaging supplies can be custom printed with your company logo and branding.
They offer a clean, professional look that will make your products stand out on store shelves.
 Typical Applications of Flat Poly Bags
Applications for flat poly bags are endless. They are commonly used in the medical industry for packaging and storing medical supplies. Additionally, the bags are often used in the shipping industry for packaging and protecting products during shipping and handling. Here are just a few other common applications of poly bags.
Food packaging: The bags are often used to pack food items like candies, nuts, and dry fruits. They are also commonly used for packaging meat and cheese.
Electronics packaging: They can be used to protect electronic items from dust and moisture. The packaging supplies are often used to package items like circuit boards and LCD screens.
Retail packaging: Flat poly bags are often used to package retail items like clothes, shoes, and accessories. They are also commonly used for packaging home goods and gift items.
If you are looking for
wholesale flat poly bags
, be sure to work with a reputable and experienced manufacturer like Universal Plastic. There are many benefits to working with established businesses like them including:
Access to high-quality products: When you work with well-known manufacturers, you can be sure that you are getting products that are made to the highest standards.
Experienced staff: Working with an experienced team means that you will have access to professionals who know the ins and outs of the manufacturing process. This can be extremely helpful if you have any questions or concerns.
Competitive pricing: Universal Plastic offers competitive pricing on bulk purchases, which can help you save money on your purchase.
If you're looking for ways to improve your packaging operation, consider investing in the right type of flat poly bag that can improve your throughput, minimize waste, and improve your bottom line.
---