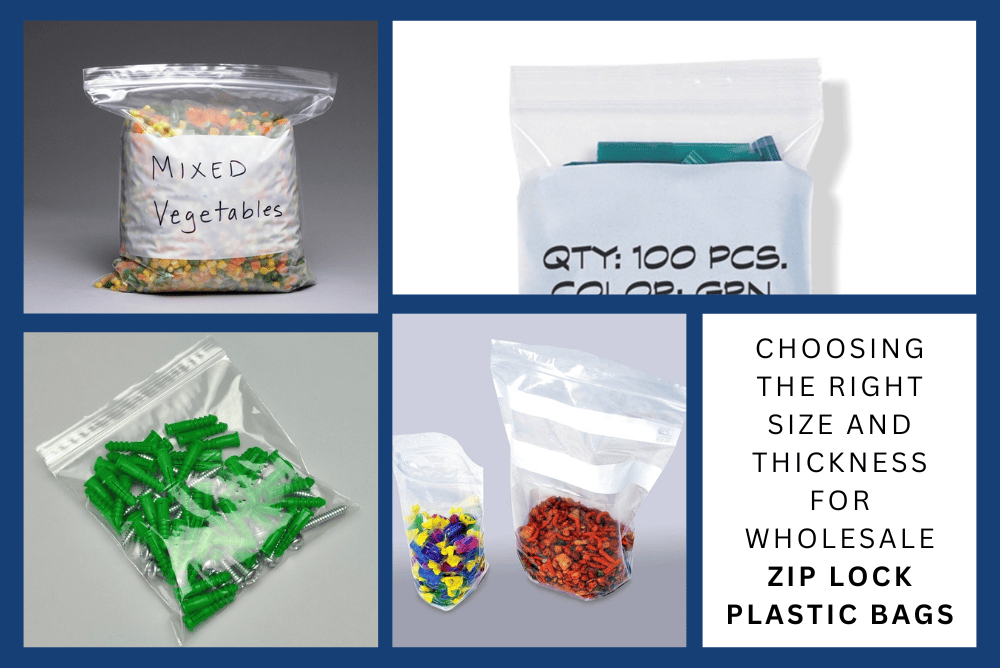 Zip lock resealable bags are widely chosen for shipping, packaging and storage applications. These zip lock bags are immensely useful for several applications across industries ranging from food, manufacturing, electronics, construction, automotive, and many others. Mostly clear and transparent, these zip lock plastic bags are available in several sizes and mil thicknesses to meet diverse requirements ranging from storage and shipping to cooking, heating in a microwave, deep freezing, and so on. Regardless of the application you need these zipper bags for, it is crucial to know the right size and Mil you require. This post discusses some guidelines which may help you choose the type, size, and Mil before you place an order for wholesale zipper plastic bags.
Factors to Consider When Choosing the Size and Mil Thickness for Zip Lock Plastic Bags
Choosing the right size and thickness depends on your storage requirements. Some industry standards require a specific thickness range. Industries such as food and healthcare require bags made of specific polymers based on their physical and chemical properties. Here are some factors you may want to consider to be able to select the right Ziplock resalable bags in terms of size and thickness.
Purpose: The use of zip-lock plastic bags in terms of application must be clear, such as for storage, transportation, shipping, and so on. Also, the ambient environment, properties of the contents inside, and so on help identify the suitable size and mil thickness. Additionally, one needs to consider conditions required for specific applications, such as temperature requirements in the food industry.
Size requirements: Consider the size, shape, and weight of the contents inside. Measure the dimensions of the objects or determine the approximate size range. The contents must fit comfortably inside the plastic bag without the need to stretch or strain. To get the size right, measuring the length and breadth is important. To get the length (L) of the bag, measure from the base of the reclosable seal to the bottom of the bag. To get the width (W) of the bag, measure from side to side. If your application demands storing rigid items, choose a bag that is at least half an inch more than the width of the bag. This allows for fitting rigid items comfortably. You can adjust these dimensions based on the thickness and weight of the contents. This is because some contents, such as some food items, may require loose-fitting bags because of their properties such as shape, compression ability, and so on.
Thickness in mils: The thickness of plastic bags is measured in mils. The higher the mil number, the thicker and more durable the bag. Common mils thicknesses range from 1 to 6 mils, with 1 mil being thinner and 6 mils being thicker and meant for heavy-duty applications. Thin plastic bags have a thickness of 1-2 mils and are more transparent than thick bags that have a thickness of 4-6 mils. Here are some pointers which may be helpful in choosing the right thickness.

Choose reclosable zip lock plastic bags with 1 Mil to store lightweight products for a short time.
Slightly thick 1.5 Mil zip lock plastic bags made of LDPE help protect items such as jewelry from moisture, heat, and so on. However, this thickness range does not offer UV resistance. These bags can withstand light to moderate weight.
2 Mil zip lock plastic bags are used by retailers to pack items such as clothing, plastic or similar lightweight products, and so on.
3 Mil plastic bags are used for storing nuts, bolts, or other industrial parts. They can withstand moderate to heavy-weight products. These bags are thick enough to offer added protection as they are fairly resistant to punctures. You can use FDA/USDA approved 3 mil bags to store food items at normal temperatures as well as for deep freezing. In this case, look for FDA standard frosted zipper bags.
You can use of 4 Mil zip lock plastic bags to store sharp metal parts, screws, nails, and so on as they offer high puncture resistance.
Plastic packaging such as stand up pouch with zippers have thickness ranging between 3 and 5 mils and beyond. Hence, they can be used to store food items that require heating, deep freezing, refrigeration, and so on.
6 Mil bags are usually chosen to store bulky items or sharp cornered parts mostly made of metal. The bags with this thickness impart extra heavy-duty protection to the items stored. These bags are also used to store medicines or food items that needs to be stored at low temperatures. Hence, you can consider frosted zipper bags wholesale options provided you have a reliable supplier.

Materials: Consider zip lock plastic bags made with virgin low density polyethylene (LDPE). Ensure it is recyclable, BPA free, and meets all the FDA/USDA requirements for food contact.
Weight and durability: Check the weight bearing capacity of the bag depending on the materials used and its thickness in mils. The heavier the bag the better it is to store bulky items.
Legal requirements: It is important to comply to state, federal, as well as local laws regarding plastic usage as well the set industry standards. If you are using the bags for commercial purposes or within a specific jurisdiction, check if there are any requirements or restrictions on bag size or mil thickness. It is recommended to consider eco-friendly and sustainable plastic bag options such as biodegradable or compostable ones.
If you belong to the food or packaging industries, you may need zip lock cooking bags, stand-up pouches with zippers, frosted zipper bags, and so on in wholesale options. Ensure they are FDA approved for use in the food industry and meet your application requirements. It is also important to source these bags from a credible and certified manufacturer and supplier. Universal Plastic manufactures and supplies frosted zipper bags in wholesale prices.  We also offer custom as well as printing options. If you are interested in knowing more about their wholesale plastic zipper bags, their sizes, and Mil options or need to share your requirements, you can contact their team via email or phone.
---