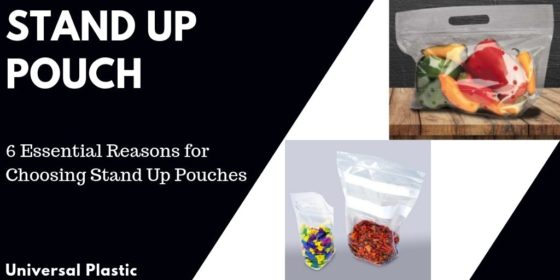 Packaging has become an important part of the branding exercise as it is the face of the product. It not only protects your food or items within but helps retain the freshness and original properties. Nowadays, there are many options when it comes to packaging, and this includes stand up pouches. Top brands from various industries are replacing the conventional way of packaging with flexible packaging methods because of their focus on using environment-friendly and lightweight packaging materials. Stand up pouches fit into all these categories and literally stand on retail shelves. So, they are widely accepted, popular, and the go-to option for manufacturers of food, beverages, care products, vitamins, pet food, and so on. These
microwavable pouches
feature easy-open tear notches and strong lock closure that maintains the freshness of products for a long time. Still, you are not sure how and which pouch to determine for your product? Read the post to know more.
Why Choose Stand Up Pouch for Product Packaging?
Choosing your packaging criteria always starts with the identification of the main need of your product. Following are some important reasons why stand up pouches could be the best option for your product.
1. Better Brand Awareness: 
As mentioned packaging acts as an important branding and sales tool. Packages that lie on the shelves provide minimum visibility, whereas, stand up pouches act like its own poster or hoarding by standing upright on the shelf. They offer better visibility and space for high-resolution graphics to attract consumers.
2. Product Preview:
The primary focus for the stand-up pouch is to display the pouch contents and showcase the inside product. A stand-up laminated pouch will highlight your product neatly, also avoid distorting the shape. Also, the important and mandatory information listed on the packet is clearly visible from a distance, in case of stand-up pouches.
3. Promote and Sell:
Stand up pouches come in varieties of sizes and lengths
across different market segments. In this, the primary focus for a pouch is to offer smaller or sample quantities of products to promote them and build brand awareness. The promo packs take up less space and are perfect for packing a sample size. The promo packs allow the consumer to experience your product without any commitment to buy.
4. Preserve and Protect:
Stand up pouches are not only excellent for displaying your product, but its ability to store and protect makes them popular. The gauge of the pouch plays a crucial role in protecting any kind of product, including a sharp or bulky object. Although, you can use these bags to store freezer items. When selecting a bag, consider the gauge and some special additives in the material that are essential for preserving and protecting products.
5. Convenience and Portability:
These flexible stand-up pouches occupy less space on the shelf or kitchen shelf than jars or boxes. They can be carried or transported from one place to another without any hassles and leakage issues. In addition to this, they feature a re-closable zipper. This helps the consumer to re-seal the pack if some content is remaining in the pouch.
6. Sustainability and Savings:
Like all flexible packaging, stand up pouches requires fewer materials and less energy to make. Rigid packaging costs three times more energy per unit than stand up pouches. This means laminated stand-up pouches offer cost savings and better profit margin for the business. When it comes to distribution, more units of stand-up pouches fit in a single-vehicle and thus help save fuel costs as well. All the outlined features make stand-up pouches stand tall in the packaging industry. No wonder they are one of the fastest-growing pack formats. Are you looking forward to buying stand-up pouches for your product or brand? If yes, then you consider consulting some industry-leading manufacturer like Universal Plastic. The company manufactures a full range of flexible packaging for their client. Their wide range of inventory includes plastic bags, re-closable bags, trash can liners, garment bags, and more