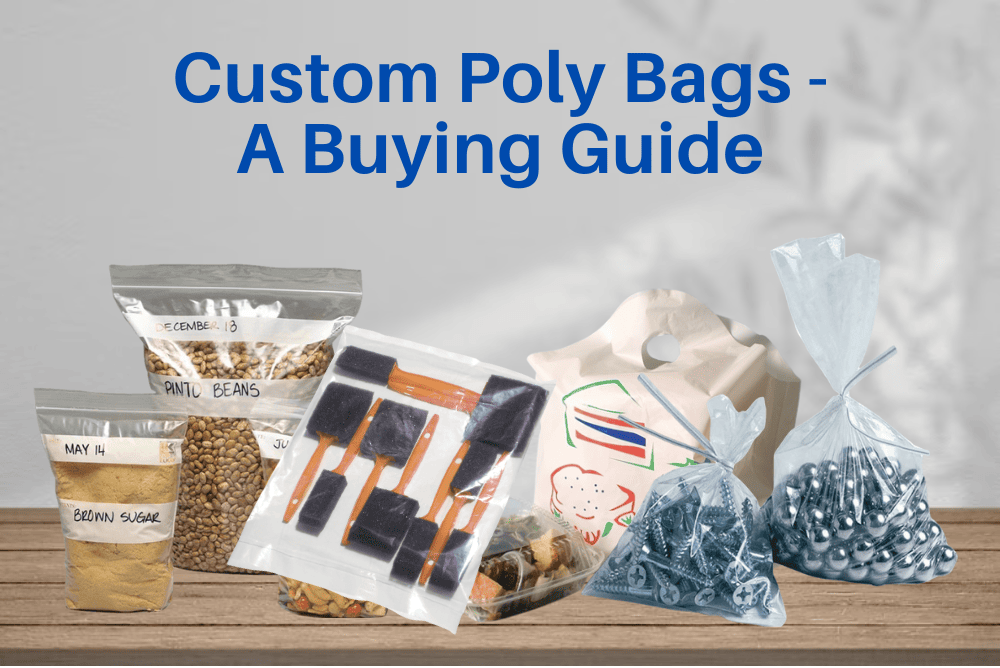 As business owners, you would understand the importance of investing in high-quality packaging to ensure the safety of products during storage and transportation. One of the most popularly used packaging materials used for packaging is poly bag, which is greatly popular for its durability and versatility. It is used widely for packaging across food and beverage, agricultural, medical, and healthcare industries. This post offers you an overview of poly bags, including their types, typical materials of construction, applications, and so on.
Types of Wholesale Poly Bags
There are different types of
wholesale poly bags
available in the market best suited for packaging different types of products. The following are some popular ones among them.
Vented poly bags: These bags are used for packaging things you want to keepfresh for a long time by allowing air to circulate through them. Vented poly bags are designed with tiny perforations, allowing air to circulate through them and preventing moisture buildup.
Wicketed poly bags: These bags come in a stack and are often held together with a thin wire, which is why it has this name. They are commonly used in automated packaging systems and are ideal for high-volume operations. Wicketed poly bags are used for storing food items such as oatmeal, rice, breads, and so on.
Gusseted poly bags: These plastic bags feature expandable sides, which is ideal for packaging bulkier items. They can increase their capacity to the required size, which makes them more efficient to store or ship.
Types Of Materials Used In Poly Bags
The poly bags are made of the following materials:
LDPE (Low-Density Polyethylene): This material is lightweight, flexible, and puncture-resistant. This material exhibits high chemical resistance that makes it capable of withstanding chemicals hence making it useful for food industries where it can be used to protect food and drink items. It is ideal for packaging products that require protection against moisture, dust, and other environmental factors.
HDPE (High-Density Polyethylene): HDPE is a strong and rigid material suitable for packaging heavy or sharp-edged items. This material exhibits superior puncture resistance and durability but is less flexible than LDPE. It is used for creating pipes and other solid components and can also form stiff, moisture-resistant poly bags for delicate or heavy materials.
Linear low-density polyethylene (LLDPE): Unlike conventional low-density polyethylene (LDPE) plastic, LLDPE has a linear molecular structure with shorter and more branched chains. This structure delivers an improved strength and puncture resistance than LDPE. This makes the bag suitable for holding and transporting a variety of goods, including food, clothing, and other items.
Sizes of Poly Bags
After deciding which type of poly bag you want to use, you'll need to measure your product to determine the necessary dimensions. Poly bags come in a variety of sizes and can be customized to fit your specific product needs. To give a general idea, 2 "x 3" is ideal for packing small items like jewelry, nuts, and bolts. Similarly, 8 "x 10" is perfect for packaging clothing, small electronics, and books, whereas 24 "x 36" is ideal for packing bigger items like bedding, rugs, and furniture.
Factors to Keep In Mind While Finding the Best Poly Bags Manufacturer 
When looking for a reliable poly bags manufacturer, it is essential to consider a few factors. The following pointers will help you understand it better.
Try choosing a Vented or Wicketed poly bags manufacturer that uses first-class raw materials for manufacturing.
Check if the manufacturer offers customization options to suit your needs, and provides you with the most competitive rates without compromising quality.
See if the manufacturer offers wholesale poly bags at competitive prices.
You also need to keep in mind that your poly bags manufacturer employs strict quality control measures to guarantee that their products meet industry standards.
Contact Our Experts for Quality Clear Poly Bag Solutions
Universal Plastic is a leading
poly bags manufacturer
that offers one of the extensive collections of custom clear poly bags, including anti-static bags, mattress bags, medical bags, pallet covers, poly tubing, shopping bags, trade show bags, produce bags, and so on. The company can provide high-quality, customized wholesale poly bags at competitive prices. For more guidance on choosing the right poly bag for your shipping, packaging, or storage application, contact Universal Plastic today.
Poly Bag Types: Flat or Gusseted? 
Aside from material, bag type is another important consideration. Poly bags are available in both flat and gusseted designs. 
[metagallery id=5273]
Flat Poly Bags. 

As their name suggests, flat poly bags are made from seamless tubing that allows them to lay completely flat when empty. These bags can accommodate many commercial and consumer packaging applications ranging from food items to manufacturing components.

Gusseted Poly Bags.

Gusseted bags are designed to expand, with extra panels giving these bags a rectangular shape when full. Gusseted bags are ideal for packaging bulkier items. They are also useful for packaging smaller components as gusseted bags fit more product than similarly-sized flat bags, making them more efficient to store or ship.
The team at Universal Plastics can help you decide which type of poly bag is best for your application.
What Size Poly Bag Do You Need?
Once you've decided on a type of poly bag, you'll need to measure your product to determine the necessary dimensions. If you've chosen a flat bag, you simply need to choose the right dimensions for length by width. Consider the size of each component and the number of components you intend to place in a bag. For volumes with very small products, consider the overall volume of product that should go in each bag, then calculate the dimensions that would accommodate that volume.  It's important to size up to account for imprecision and to allow room between components. 
For a gusseted bag, calculate the desired volume in the same way, but treat the bag as a rectangular prism when translating the desired volume to dimensions. While you should still add a bit to your measurements to ensure the bags have adequate room, the depth and shape of gusseted bags make it easier to get a close and accurate fit.
If your calculations reveal a need for a non-standard size, Universal Plastics can still help. As an industry leader in poly bags, we are happy to accommodate custom orders.
Common Applications
Poly bags are used to pack, store, and ship items of all kinds. 
Food Packaging. 

FDA-approved, food-safe poly bags keep foods fresh and prevent moisture or contamination. At the same time, they offer a simple and attractive way to display bakery items, produce, and bulk foods, especially when printed with custom branding elements.

Hardware Packaging.

Small poly bags are an excellent, see-through solution for organizing hardware of different sizes or shapes. These packages are especially useful when shipping products with assembly requirements.

Bulk Packaging.

Thin, plain bags are a cost-effective option for vendors that sell bulk goods of any kind. Applications range from single-use bags for bulk grocery customers to sturdier bags that contain pounds of animal feed.
Poly bags can also protect, contain, and display non-food items of all types, including clothing, office supplies, home goods, and more.
---
Custom Printed Poly Bags at Universal Plastic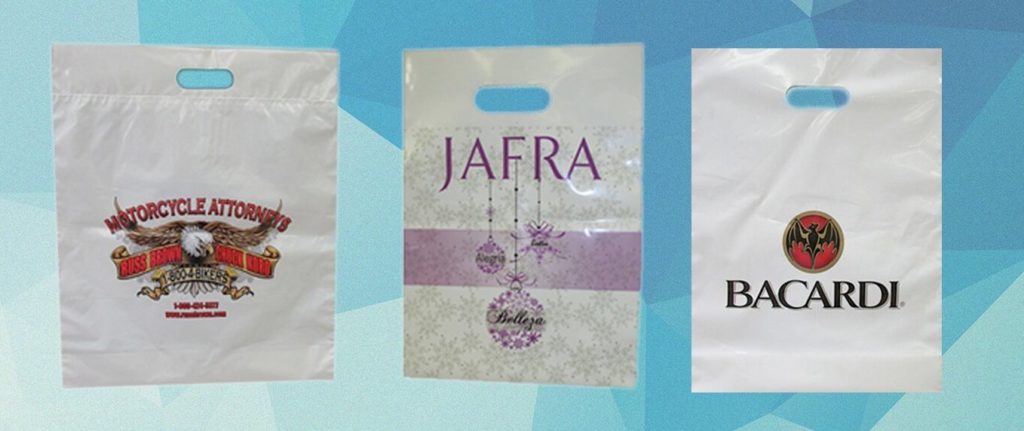 Custom printed poly bags help brands stand out with colorful prints and logos, as well as nutrition facts or other specifications. At Universal Plastic, we offer custom printing on clear poly bags of all shapes and sizes, making it easy for clients to both attract customer attention and comply with labeling regulations.
Why Choose Universal Plastic as Your Custom Poly Bag Manufacturer?
Universal Plastic offers an extensive range of standard and custom poly bags, including:
These products can be completely customized to meet your requirements for size, branding, weight-bearing capacity, and more. With over 20 years in the plastic packaging industry, we have the skills and experience necessary to fulfill almost any custom order.
Contact Our Experts for Quality Clear Poly Bag Solutions 
Universal Plastic offers premium packaging products to suit diverse needs, with options for flat or gusseted LDPE and LLDPE poly bags, including resealable, food-safe, and perforated designs. For more guidance on choosing the right poly bag for your shipping, packaging, or storage application, contact Universal Plastic today.


---