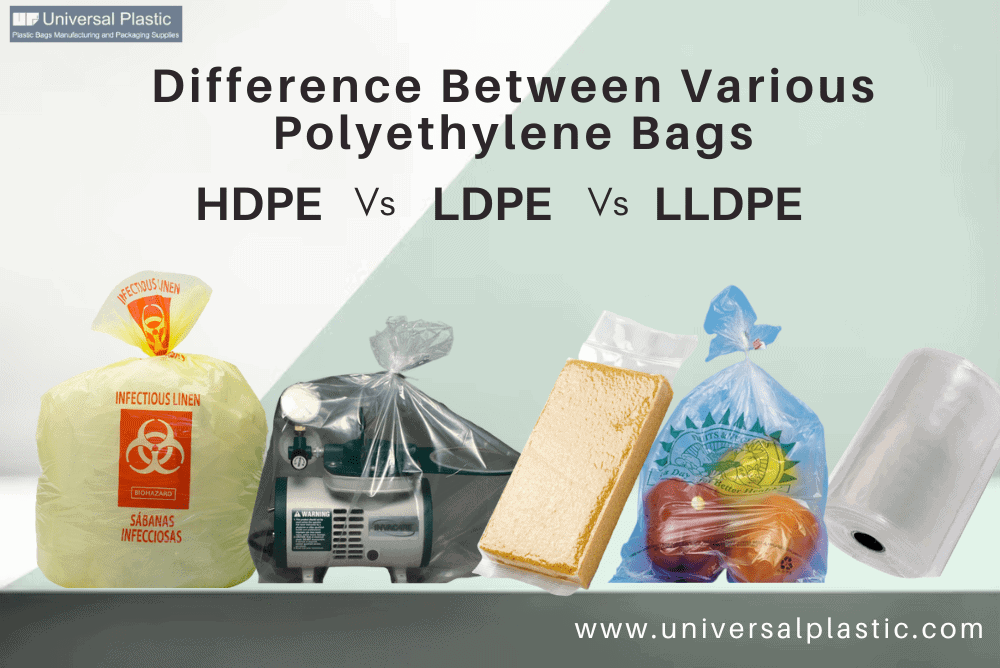 Polyethylene is one of the most widely used plastic types and is made from the polymerization of ethylene gas. Polythene or polyethylene finds applications across industries. There are many types of polyethylene bags based on density, bag type and so on. There high density as well as low density polyethylene bags. High-density plastics which are absolutely non-permeable are used in making pipes, tanks, and so on. On the other hand, low-density plastic is used to make shopping bags, water bottles, and so on. Low density polyethylene bags (LDPE) are extensively used in retail and FMCG as shopping bags. Based on the type of bags, they are broadly categorized as gusseted bags, flat bags, and more. This post discusses different types of polyethylene, various applications of polyethylene bags, and more.
Types of Polyethylene and its Application in Making Bags
The process of polymerization of ethylene results in long linear chains of hydrocarbons branching in various directions. The degree of this branching decides the type of polyethylene. This branching also lends typical characteristics to polyethylene.  This section offers insights on four types of polyethylene - HDPE, LDPE, LLDPE, and MDPE that are used to make bags for different applications.
High-density polyethylene (HDPE): This has minimal number of branches of chains resulting from polymerization. This leads to densely packed and bonded molecules making this type of polyethylene rigid, robust, and durable. While HDPE finds applications in industrial parts and components, it is also used to make plastic handle bags used for shopping, storing, and packaging. HDPE is resistant to heat and moisture and has excellent tensile strength. Also, it is clear and transparent. HDPE is used for making bags for packaging of food grains, minerals, fertilizers, cement, and most other bulky materials. Hence, many businesses use HDPE bags to pack clothes, agricultural produce, bulk utilities, as well as food items.
Presenting a selection of our finest HDPE bags manufactured by Universal Plastic Bags:
Low-density polyethylene (LDPE): This is generated from free radical polymerization which leads to long and short branching of chains. This makes this type of polyethylene highly ductile but its tensile strength and durability are low. This commonly finds applications in plastic handle bags, plastic film wraps, grocery polythene bags, and food packaging because of their moderate strength and stretch ability. Low density polyethylene bags are used to store or carry light to medium weight items. These are extremely versatile and highly customizable in terms of shape, size, gauge, and so on. Hence, USDA and PDA approved Low density polyethylene bags are widely used as custom shopping bags for groceries, food items, and more.
Follow is a range of our finest LDPE bags manufactured by Universal Plastic Bags:
Linear low-density polyethylene (LLDPE): The polymerization of this type of polyethylene results in multiple short branches. LLDPE is strong and durable and offers puncture resistance to the product. The structurally short branches of this type of polyethylene easily slide against each other, without entangling, when elongated. This results in high tensile strength and durability which is more than LDPE. FDA and USDA approved LLDPE bags are useful for storing items in refrigerator as well as for deep freezing. They have medium strength and a thin gauge. If these bags are gusseted, they can accommodate large quantity of items.
Follow is a range of our finest LLDPE bags manufactured by Universal Plastic Bags:
Medium-density polyethylene (MDPE): This variant of PE is typically used to make trash cans liners as it has medium strength and are translucent. Also, its stretching ability is limited; however, it can resist cracking and shocks. MDPE offers excellent protection from moisture, debris, and so on, and this is one reason it is used to make trash can liners.
If you are a business owner, especially in the food or retail industry, you may need trash cans liners and plastic grocery bags in bulk. However, ensure you source good-quality plastic bags that meet the industry norms state regulation. Also, make sure you get these bags from a reliable manufacturer and supplier such as Universal Plastic. The company provides a variety of polyethylene bags including custom shopping bags in different specifications to meet your application requirements.
---